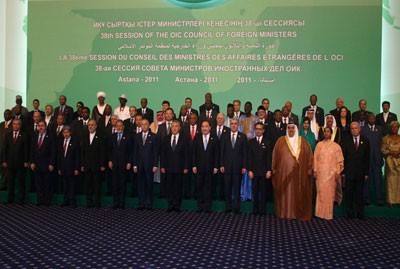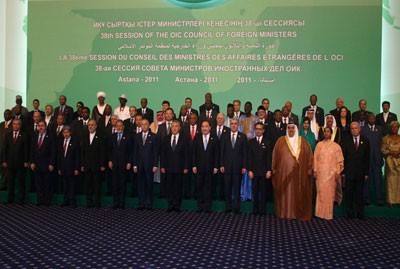 Deputy Foreign and Expatriates Minister Dr. Fayssal Mikdad held on Wednesday a number of meetings with heads of delegation participating in the 38th session of the Foreign Ministers Council of Organization of Islamic Conference (OIC) in Astana, capital of Kazakhstan.
The Deputy Minister discussed with Kazakhstan's Minister of Foreign Affairs Yerzhan Kazykhanov the issues listed on the session's agenda, bilateral relations, and the situation in the Middle East.
Kazykhanov affirmed Syria's pivotal role in the region, saying that the people and leadership of Kazakhstan support Syria and the comprehensive reforms led by President Bashar al-Assad.
For his part, Mikdad underlined the strong relations between the two countries, particularly following the visit of Kazakh President Nursultan Nazarbayev to Damascus in 2007. He also affirmed Syria's interest in boosting relations with Kazakhstan in all fields.
The Deputy Minister also held a meeting with Iraqi Minister of Foreign Affairs Hoshyar Zebari, with the two sides expressing satisfaction over the constantly-developing relations between the two countries.
Zebari reiterated Iraq's support for Syria and the process of reform and development, stressing Iraq's commitment to Syria's stability and security since it impacts Iraq's security and stability.
In a similar meeting, Mikdad discussed with Oman's Minister of Foreign Affairs Yousuf Ben Alawi the situation and developments in Syria and the Middle East, with Bin Alawi affirming his country's support for the reform process in Syria and its commitment to its security and stability.
During a meeting with Azerbaijan's Minister of Foreign Affairs Elmar Mammadyarov Mikdad lauded Azerbaijan's stances in support of Syria in international circles. Talks during the meeting dealt with relations between the two countries and the need to bolster them to follow up on the results of the visit of President Bashar al-Assad to the Azerbaijani capital of Baku.
The Deputy Minister discussed with Maldives' Minister of Foreign Affairs Ahmed Shaheed developments in the Middle East and the need to develop bilateral relations, with Mikdad briefing the minister on the situation in Syria due to the conspiracy targeting its stability and stances.
Earlier, a special session on political stability and economic development was held during the conference, during which Mikdad stressed the need for solidarity among OIC member countries to preserve their countries' political stability and economic development.
He underlined the risks of the west's policies that support Israel and threaten the stability and development of OIC countries, pointing out to the obstacles imposed by western countries on some countries to weaken them and their stances in the face of Israeli occupation.
The Deputy Minister noted that Zionist Israel's allies sacrifice their own countries' interest to serve Zionist Israeli policy and ensure the continuation of its occupation of Arab lands, affirming the need for the OIC to confront and foil these policies seeing as the Organization has the resources to confront the west's policies.