Egypt
Militants kill soldier, civilian in North Sinai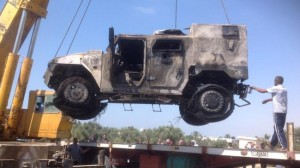 An Egyptian soldier and a civilian have been killed after militants ambushed a military convoy in the north of the volatile Sinai Peninsula.
The incident occurred on early Tuesday when gunmen fired three rocket-propelled grenades at an armored military vehicle and a troop carrier on a key highway near the city of el-Arish.
The militants engaged in a gun battle with the soldiers before escaping from the scene.
Seven soldiers were also wounded in the attack. Some of the injured are reportedly in critical condition.
Earlier in the day, an unnamed military official said a roadside bomb had targeted the armored vehicle that was attacked.
The Sinai has long been considered a safe haven for militants who use the region as a base for terror activities.
The remote desert region has been the scene of growing violence and militant attacks on security forces ever since the ouster of former President Mohamed Morsi in a military coup on July 3.
The ouster of Morsi, Egypt's first democratically elected president, sparked mass protests which were met by a bloody crackdown from the army-backed interim government.