Palestine
Mishaal: No calm without ending Gaza siege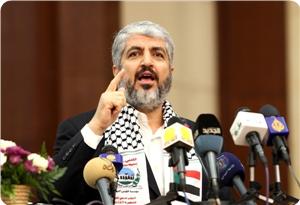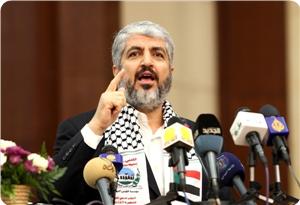 Head of Hamas's political bureau Khaled Mishaal affirmed that his movement will not agree to a cease-fire that does not result in the lifting of the siege on Gaza.
"Any initiative that doesn't stop the aggression and end the siege on Gaza would not be acceptable to our people. That's why the Egyptian initiative was rejected," he clarified.
"It is high time that the international community addresses the root of the problem in Gaza, lifts the unjust siege on the people and puts an end to Israeli violations in Jerusalem and the West Bank such as the arrests, home demolitions and the closing of civil society institutions because the root of the problem is the occupation, the settlements and the Judaization of Palestinian land," he said in an exclusive interview with Al-Monitor.
"We don't want war or more bloodshed, because we are the victim who is being killed, arrested and aggressed by the occupation, the settlements and the siege. We want to live a decent life without occupation and siege," he added.
Mishaal accused Israeli Prime Minister Benjamin Netanyahu of instigating the war for domestic political reasons. "Netanyahu is the one who started this war. He attacked Gaza without justification. He did it for internal Israeli calculations and to face those 'one-upping' him inside his government," he said.
The Hamas leader said Israeli accusations that Hamas fighters were using civilians as human shields were "completely false." Mishaal stated, "This is an immoral pretext for the crimes being perpetrated by Israel when F-16 jets destroy hundreds of houses over the heads of their owners in the Gaza Strip".
In regard to Hamas's reconciliation with Palestinian President Mahmoud Abbas and his Fatah movement, the Hamas leader said he has no intention of ripping up the agreement. "Netanyahu has sought and is seeking to undermine the reconciliation, but our response will always be to stick to it more and more," he said.
Mishaal urged US President Barack Obama to "respect" the Palestinian reconciliation deal and work against attempts to "sabotage" it. "This is our natural right, like any people in the world, to reconcile and to arrange internal national affairs on real democratic bases."
In response to Obama's offer to negotiate a cease-fire, Mishaal said Obama has his hands tied because of "illogical laws" in the United States that prevent Washington from dealing directly with his organization, referring to Hamas being on the US list of terrorist organizations.
"Those laws don't serve America's interests, but serve Israeli calculations and considerations," said Mishaal. "This weakens the effectiveness of America's role in resolving the Palestinian cause, because Hamas is the main resistance party in Palestine, and to communicate with us, the US has had to resort to intermediaries."
Mishaal urged the United States to change its policy toward the Israeli-Palestinian conflict to one that is more balanced. "The US administration has many times tried to pressure the Palestinians and the Arabs in order to help Israel, but this policy has failed … Change your foreign policy to be more balanced, and you will see results the world will not regret."