Palestine
Mishaal: Sheikh Omar Al-Ashqar was one of Hamas's founders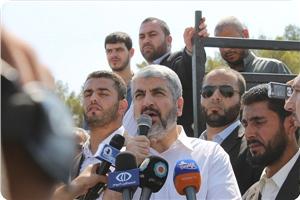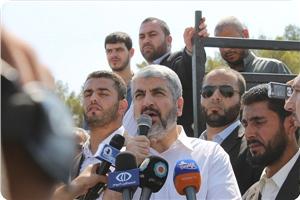 Head of Hamas's political bureau Khaled Mishaal hailed the role of Sheikh Omar Al-Ashqar who passed away on Friday in establishing Hamas Movement and supporting the resistance.
In a speech he gave in the house of the late Sheikh on Saturday night, Mishaal highlighted that the first armed group was founded by Sheikh Ahmed Yasin and was financed by the Kuwaiti people through Sheikh Omar Al-Ashqar during his stay in Kuwait.
"Sheikh Omar Al-Ashqar was one of the most important and prominent founders of Hamas. He was the first Mufti of the Movement and the first chairman of its advisory council," he added.
"If he had wanted to, he would have been a great figure in the Movement, but he preferred to stay in the shade as a reverenced Sheikh providing support and assistance and abstaining from leading positions and posts," the Hamas leader emphasized.
Thousands of Jordanians and Palestinians attended the funeral of the late Sheikh Omar Al-Ashqar on Saturday morning led by Hamas political leader Khaled Mishaal who arrived in Amman on the same day.