Palestine
Mishaal: We have agreed with the Arab League to internationalize prisoners issue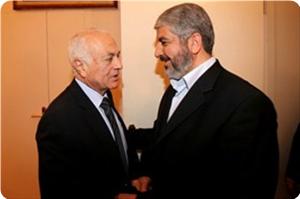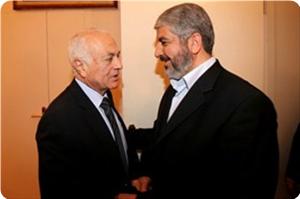 Hamas Political bureau chief, Khaled Mishaal, has confirmed that he agreed with Dr. Nabil el-Arabi, the Secretary-General of the Arab League, on Sunday, to internationalize the Palestinian and Arab prisoners' issue in occupation prisons and take it to the General Assembly of the United Nations.
Mishaal said, in a press conference held after his meeting with the el-Arabi in Cairo: "We have discussed the prisoners' issue, and we stressed that this issue has to be addressed, especially with the continued prisoners' strike since 17 April".
He added that the prisoners were obliged to go on this battle to stop the occupation's violations against them. "They have two main demands, the first of which is to get rid of solitary confinement which some prisoners have been suffering for more than 12 years. The other demand is to end the Shalit Law" he said, pointing out that Shalit law was to be annulled according to the last exchange deal which is violated by the occupation.
He called for concerted efforts on the Palestinian, Arab, and international levels in support of the prisoners' issue, pointing out that many of the prisoners' family members were taken to hospital because of their hunger strike in solidarity with their sons.
He stated that the Secretary-General of the Arab League promised to call for a special session of the UN General Assembly to discuss this issue and to address all the international platforms in favor of it.
For his part, Nabil el-Arabi said that the prisoners issue is an urgent issue. "What is going in the occupation prisons is inhuman" he said.