Monarchists, Marxists behind Ashura unrest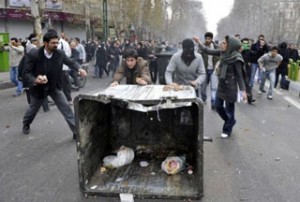 Marxist and monarchist groups outside Iran's boundaries have been behind last week's riots in the capital Tehran, the intelligence ministry says.
Members of the Iranian Intelligence Ministry and the Parliament's National Security and Foreign Policy Commission met Sunday to examine the anti-government unrest that broke out during Ashura ceremonies marking the anniversary of the martyrdom of Imam Hussein (PBUH).
"In the session, the main elements of the recent unrest in the country were examined and intelligence officials responded to questions of the lawmakers," Mohammad Karimi-Rad, a member of the commission, said on Monday.
The members of Iran's intelligence apparatus, the lawmaker continued, concluded that the violence on the day of Ashura was coordinated by "monarchist groups and Iranians residing outside the country."
"Baha'i and Marxist groups were also represented," he said, adding that security forces had arrested four people connected to anti-revolutionary Marxist groups.
During the incident, rioters chanted slogans against top Iranian government officials, vandalized public property and set trash cans ablaze, forcing the Iranian police to used tear gas to disperse them.
Seven people are confirmed to have died during the Sunday unrest, which has been described as defiling the religious ceremony of Ashura. Confirming the deaths, Iran's Deputy Police Chief Ahmad-Reza Radan said forces did not use violence against the protesters, denying any police involvement in the killings.