World News
Morales vows to boost indigenous rights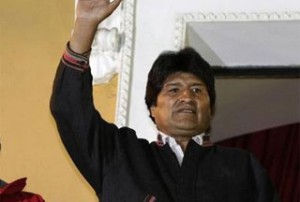 Bolivian re-elected President Evo Morales has pledged to strengthen political power for indigenous groups following his landslide victory.
Morales won Sunday's election with 63 percent of the vote to lead a second five-year term in office, exit polls showed. Official results will be announced on Tuesday.
Morales' party, Movement Toward Socialism, looked likely to win two-thirds of the seats in both houses of Congress, which leaves his divided conservative opposition with little power.
The victory means that his social reforms has proved palpable to the Bolivian middle class.
The leftist president introduced wide-ranging measures from redistribution of wealth and lands to establishment of indigenous universities in the South American state during his first term in office.
Critics say he has scared away foreign direct investment (FDI) by nationalizing companies. His state takeover of the energy industry in 2006 raised taxes on foreign companies.
They say windfalls from nationalization of firms has enabled Morales to give Indian communities more authority over investment in natural resources.
His critics are mostly European descendent Bolivians in the east especially in Santa Cruz province, who used to control much of the country's riches including oil, natural gas and vast lithium repertoires.