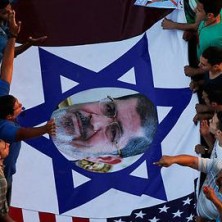 The spokesmen for the Egyptian presidency and the cabinet, along with the foreign minister, offered their resignation on Tuesday as President Mohammad Mursi rejected an army statement in which it gave him 48 hours as ultimatum to meet the demands of the people.
Presidential spokesman Ehab Fahmy — who was seconded to the presidency from the foreign ministry– has tendered his resignation, a foreign ministry official told AFP.
Cabinet spokesman Alaa al-Hadidi told the official MENA news agency he had also given his notice to Prime Minister Hisham Qandil.
Foreign minister Mohammed Kamel Amr has also tendered his resignation, MENA reported.
Earlier on Monday Ministers of tourism, environment, communication and legal affairs offered their resignations, but Mursi and Qandil rejected them.
Mursi Rejects Army Ultimatum
In a statement issued overnight, the presidency insisted it would continue on its own path towards national reconciliation.
The statement added that the army declaration had not been cleared by the presidency and could cause confusion.
Earlier on Monday, the Army said it would impose its own road map for the country unless the public demands were met within 48 hours.
The presidency also denounced any declaration that would "deepen division" and "threaten the social peace".
Mursi was consulting "with all national forces to secure the path of democratic change and the protection of the popular will", it added.
"The civil democratic Egyptian state is one of the most important achievements of the January 25 revolution," said the presidency, referring to the 2011 uprising that toppled dictator Hosni Mubarak.
"Egypt will absolutely not permit any step backward whatever the circumstances," it added.