Middle East
North America
Syria
More Syrian Civilians Killed in Fresh Satanic US Airstrikes in Deir Ezzur
Several more Syrian citizens were killed and wounded in US airstrikes on Eastern Deir Ezzur as clashes erupted between the US-backed Kurdish militias and civilians in Hasaka province.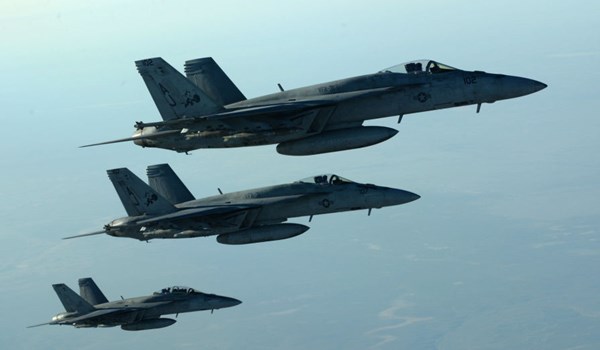 Local sources in Eastern Deir Ezzur said that the US-led fighter jets pounded a farm in the town of al-Zar near the city of al-Shahil in Eastern Deir Ezzur.
The sources noted that five civilians, including women and children, were killed in the US airstrikes and several others were wounded.
Meantime, the pro-militant Baladi news website reported that a number of civilians have also been wounded in the Syrian Democratic Forces (SDF) attack on civilians in Tal Hamis in Northern Hasaka.
It noted that the attacks by the Kurdish militias on Syrian citizens happened after several Arab militias of the SDF defected from Um al-Rus military base in Hasaka.
In a relevant development on Sunday, several more Syrian civilians were killed in fresh airstrikes by the US in Eastern Syria and tens more had been arrested in massive raids by the SDF in Deir Ezzur.
Media activists in Eastern Deir Ezzur reported that the US-backed SDF attacked al-Kashkieh town in al-Sha'aytat region in Eastern Deir Ezzur and arrested over 30 Syrian citizens there.
The sources said that the SDF militias, in 20 military vehicles, laid siege on al-Kashkieh town, and killed a civilian.
The pro-militant Orient News Website pointed to the large casualties of civilians in the SDF jails in Eastern Syria, and said that a Syrian citizen has been killed in SDF's security jail in the town of al-Sabheh in Eastern Deir Ezzur.
In a relevant development on Thursday, tens of people in the town of al-Basireh in Eastern Deir Ezzur attacked a military base of the SDF in Eastern Deir Ezzur, destroying the center after clashes.
The sources said that the residents attacked the SDF positions after one of the civilians was killed under torture at an SDF prison in the town of al-Sabhah.
They added that two other civilians were also earlier killed by the SDF in the town of Sweidan Jazirah in Eastern Deir Ezzur, noting that the Kurdish forces detained and tortured under baseless accusations a large number of civilians in the regions under their occupation.
Sources had noted in June that several civilians were killed and wounded in SDF and US attack, and said that the entire regions under the SDF control in Hasaka and Deir Ezzur provinces were the scenes of popular protests against the presence of occupying forces there.
Meantime, the Arabic-language al-Khabour News Website reported that the SDF in Hasaka province prevented civilians from leaving the regions under their control for safe regions controlled by the Syrian Army.
The SDF fighters also asked for the payment of a sum of about 100,000 Syrian liras from any vehicle trying to leave the SDF-controlled region for Hasaka.