Syria
More terrorists eliminated across Syria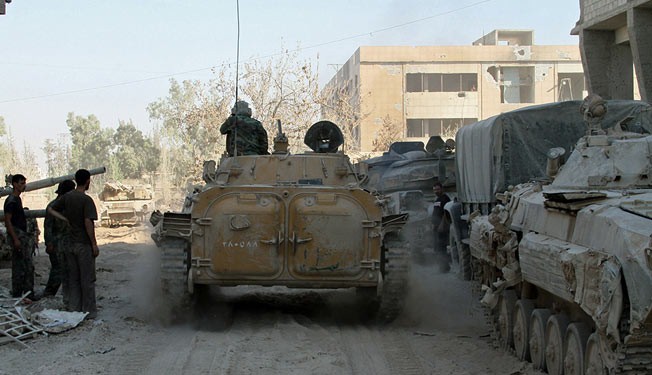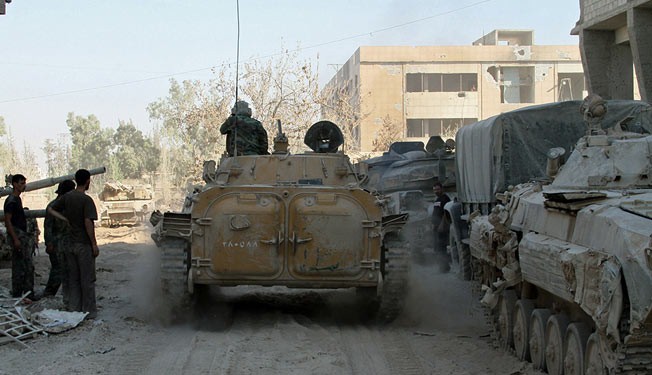 Syrian army units have continued carrying out successful operations against the foreign-backed militant groups' gatherings and hideouts across the country, inflicting heavy losses upon their members and destroying their equipment.
A number of militants from al-Nusra Front and the so-called Islamic Front, most of them non-Syrians, were killed during the army's operations in various areas in Rif Dimashq on Saturday.
Army units carried out an operation on the northern axis of al-Mleiheh town and near Tameco medicinal manufacturing company, leaving a number of al-Nusra Front militants dead.
Mahfoud Nasleh from Algeria was identified among the dead, in addition to a militant group's leader.
Many militants were also killed and others were wounded in operations in the farms of al-Neshabiyeh town in the Eastern Ghouta.
Militants from the so-called Islamic Front were killed in an operation in Adra al-Balad, while another operation carried out in the residential city of Adra left others dead and two of their cars destroyed.
Units of the Syrian armed forces destroyed militants' dens in Joubar neighborhood, killing many of them and injuring others.
A concentrated operation was carried out in the southern mountains in al-Zabadani area, resulting in the death of all members of a militant group, most of them non-Syrians.
Alaa-Eddin al-Asir from Lebanon and Haroun Abdul-Rashidi from Yemen were identified among the dead.
A number of militants were killed and others were injured in the mountains of Qara on the Syrian-Lebanese borders. Fares Daher was among the dead.
Army units clashed with militants in central Daraya city, killing 8 of them and injuring others.
Meanwhile, an engineering unit dismantled a car bomb which was located in the main street in the town of Sahnaya, Rif Dimashq.
A source told SANA's correspondent that the car, a Kia Rio, was parked in the main street near a wedding parlor, and was rigged with 40 kilograms of explosives.
A military source told SANA that the army also targeted militants' gatherings in Daraa al-Balad and Otman areas, killing and injuring scores of militants and destroying a tunnel in al-Manshyeh area.
The source added that the army is continuing operations in Nawa city and its surroundings in Daraa countryside, saying the army is advancing in several areas.
The army units also targeted militants' gatherings in the areas of Jasem, Enkhel and Tseel, huge numbers of militants were killed or injured in the process.
In Kafr Nubbul area in Idlib countryside, a workshop used by militants to manufacture explosive devices and homemade rocket shells exploded while militants were making IEDs, killing and injuring several of them.
Among the dead militants were Ahmad Abdullah al-Razzaq, Saad Sattam al-Hasan, and Jalal al-Najjar.
Syria has been gripped by deadly unrest since 2011. According to reports, Western powers and their regional allies – especially Qatar, Saudi Arabia, and Turkey – are supporting the militants operating inside the country.