Yemen
More than 100 Killed & Injured in Bomb Blast at Yemen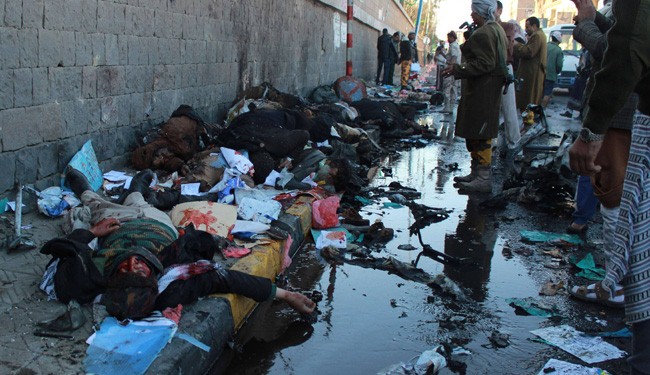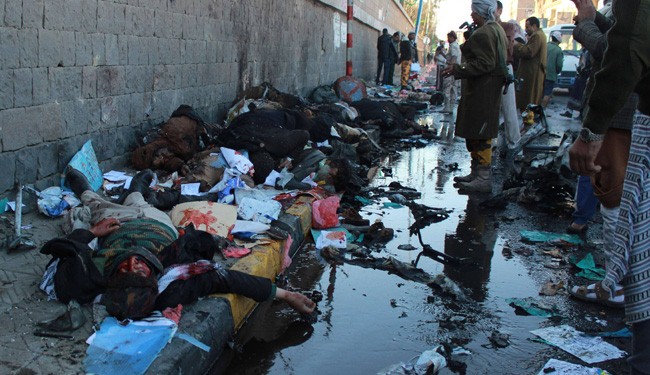 A car bomb tore through dozens of Yemenis lined up at a police academy in Sanaa on Wednesday, killing more than 37 and wounded 62 others. Police described the incident as "terrorist bombing" targeting potential police recruits, in a statement cited by the official Saba news agency.
Unstable and impoverished Yemen has been hit by a wave of violence in recent months Although powerful Shiite known as Huthis or Ansarullahbacked by popular volunteer , clashing with country's branch of Al-Qaeda.
Witness Khaled Ajlan said the early morning blast targeted dozens of "new students who were registering at the police academy".
The charred remains of the dead, mostly young men, were piled on the sidewalk outside the academy alongside blood-soaked documents they had been carrying.
The wreckage of a car sat nearby, with little remaining but mangled metal and the steering wheel, one of several cars that were still burning by midday.
A security official told AFP the bomb was in a minibus, of which only scraps of metal remained.
It was not immediately clear who was behind the blast but Al-Qaeda in the Arabian Peninsula (AQAP), the terrorist network's powerful affiliate in Yemen, has claimed responsibility for previous attacks on security forces.
Speaking to AFP at the scene, a member of the unofficial Huthi security forces blamed "radicals belonging to Al-Qaeda" for the attack.
And a Huthi statement denounced "this despicable crime," whose perpetrators "will not go unpunished."
The interior ministry said registration at the academy would be suspended for a week.
Many of the potential recruits had travelled from other parts of the country to the academy. The ministry said that, in future, it would register them locally to avoid another such gatherings being targeted.
Yemen has been dogged by instability since an uprising forced longtime strongman Ali Abdullah Saleh from power in 2012.
The Huthis, also known as Ansarullah, overran Sanaa unopposed on September 21. The militia, who already control northern parts of the country, have since expanded their presence in central and western Yemen, fighting with AQAP.
AQAP, considered to be Al-Qaeda's most dangerous branch, has pledged to fight the Huthis. A suicide bomb attack on Huthi supporters in central Yemen last week killed 49 people.
Four people, including a reporter, were killed Sunday in another blast targeting a gathering of Huthis in southwestern Yemen, while six militiamen were wounded in a blast in Sanaa on Monday.
Hadi condemned the attack and said Wednesday that a recent meeting between a delegation he dispatched to the Huthis stronghold Saada and the group's chief, Abdulmalik al-Huthi, was "positive."
Political sources said the sides discussed plans for turning Yemen into a federal state of six regions, which were announced a year ago. That proposal was rejected at the time by the Ansarullah, which demanded a two-region federation.