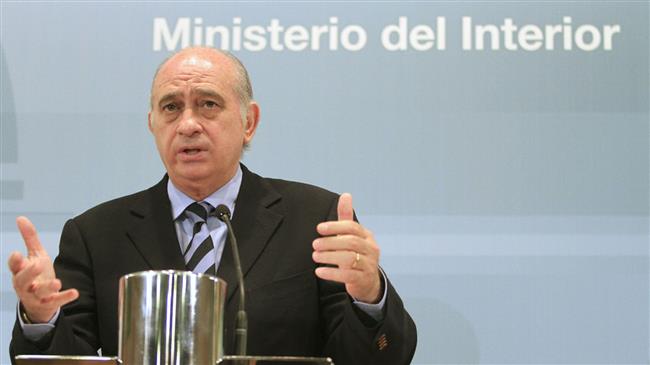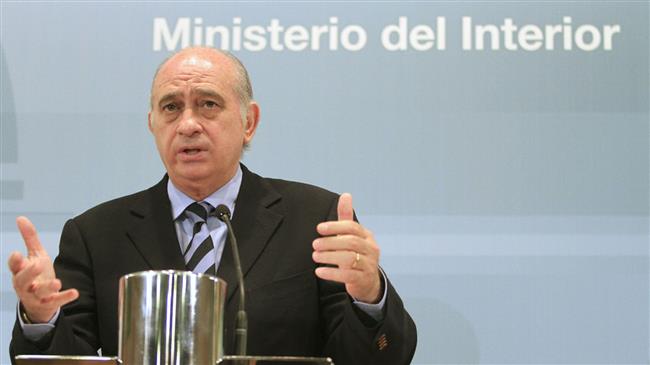 Spain's Minister of the Interior Jorge Fernandez Diaz says that European countries have witnessed the return of more than 600 terrorists from Syria and Iraq.
Diaz said Friday that Europe faces a great risk of terrorist attacks as hundreds of terrorists have returned from Syria and Iraq and can intensify their activities on European soil.
The terrorists "can conduct such tragic attacks like what we have seen in Paris," he said in reference to recent deadly terrorist attacks in France.
A terrorist attack on the offices of French satirical magazine Charlie Hebdo left 12 people dead on Wednesday. The suspects in the shooting then fled to a town north of Paris, where they took a person hostage.
Another hostage standoff evolved on Friday, when two other suspects took a number of people hostage in a market in Paris.
Both hostage standoffs ended with police assaults, in which three hostage takers were killed. A fourth has reportedly fled the scene amid the chaos of the assault. Four hostages were also killed in the Paris market before police launched the assault to free the hostages.
All suspects are reportedly linked to the al-Qaeda terrorist group.
Diaz cited data showing that around 3,000 Europeans have joined various terrorist groups in the Middle East, with more than 80 percent fighting for the Takfiri ISIL group in Syria and Iraq.
He also said that more than 70 Spanish nationals have traveled to the Mideast to fight for terrorist groups.
According to the United Nations, some 15,000 foreign fighters have arrived in Syria since the armed militancy started in the Arab country in 2011. Other studies suggest that one in five foreigners fighting in Syria is originally from Western Europe.