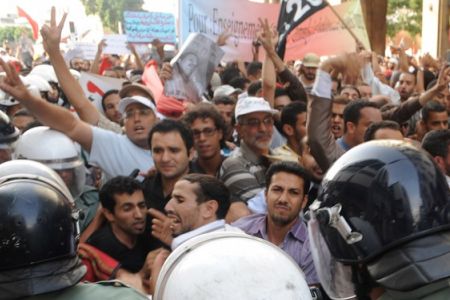 Thousands of Moroccans have taken to streets in the capital Rabat as well as in Casablanca to call for greater political reforms and social justice.

The demonstrators held rallies in Casablanca's Oulfa neighbourhood and also gathered at Bab El Had square in Rabat on Sunday, AFP reported.
Sunday demonstrations were organized by February 20 Movement. Protesters chanted slogans denouncing corruption and demanded more equality.
The opposition group which has held protest rallies in the North African nation for several months has expressed strong disapproval to the new changes in the country's constitution, calling them window-dressing.
In a referendum on July 1, voters overwhelmingly approved the constitutional reforms that are aimed at limiting the powers of King Mohammed VI.
The approved reforms included giving the government more executive authority. However, the charter will keep the cabinet, army and the judiciary in control of the king.
The February 20 Movement has vowed to continue the protests until more political reforms are introduced.