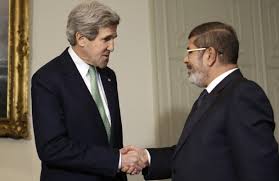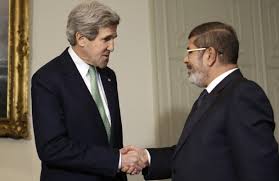 Egyptian President Mohamed Morsi has warned his opponents saying he may take imminent unspecified measures to "protect this nation."
Morsi made the remarks during a speech on Sunday at the opening session of a conference named the Initiative to support the Rights and Freedoms of the Egyptian Women in Cairo.
"If I have to do what is necessary to protect this nation I will, and I am afraid that I may be close to doing so," the Egyptian president said, adding, "I will do so very, very soon. Sooner than those trying to shake the image of this nation think… Let us not be dragged into an area where I will take a harsh decision."
Morsi's statement came days after supporters of his Muslim Brotherhood movement and opposition protesters fought street battles, in which nearly 200 people were injured.
Clashes broke out on Friday after anti-government demonstrators ransacked three Brotherhood offices in capital Cairo, in the second-largest city of Alexandria, and in the Nile Delta city of Mahalla.
Police used tear gas and water cannon to turn back thousands of people from the Brotherhood's offices.
The protest against Morsi has been called by over 50 political parties and figures, who have also demanded snap presidential polls and a new constitution.
The protesters accused Morsi of using his power to promote the interests of the Muslim Brotherhood.
Egyptians launched a revolution against Hosni Mubarak's regime in January 2011, which brought an end to over three decades of dictatorship by him in February 2011.