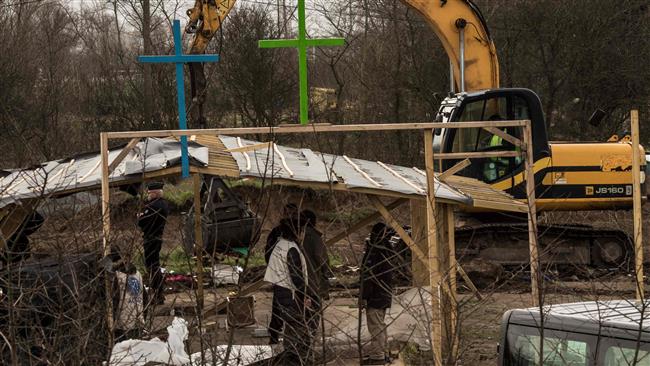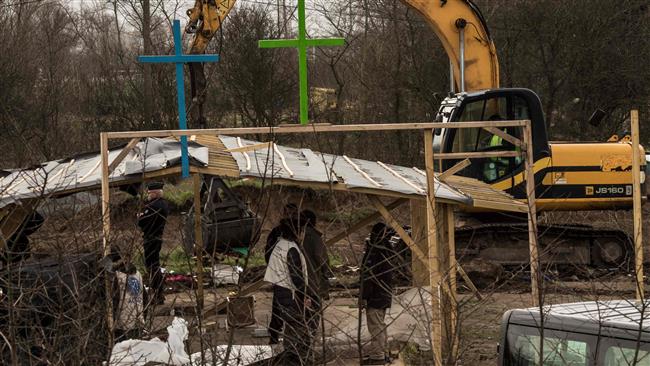 Authorities in France have demolished a makeshift mosque and a church used by refugees in the north of the country.
The incident happened on Monday at the northern port city of Calais at the Calais Camp, which is also known as the "Jungle," where thousands of asylum seekers from Syria, Sudan and other countries have taken refuge.
Authorities said the move was part of a plan to clear a 100m security zone around the camp's perimeter and a nearby motorway.
Refugees and activists have been shocked by the move. Observers say that the places of worship had not been included in initial demolition plans earlier revealed to them by government authorities.
Reverend Teferi Shuremo, the head of the church that was destroyed, told local media that authorities had told him the church was "safe" from demolition. "They are trying to destroy peace," he said, and pledged to build another church.
The Calais Camp is used by about 5,000 asylum seekers, who say they would want to reach the UK in their quest for a better life. Unattended to by the French authorities, they have built their own shops, schools, and places of worship.
'Inhuman and absurd'
In Germany, the leader of the opposition right-wing party, the Alternative for Germany (AfD), has demanded police to be given powers to use firearms against refugees.
In an interview, the head of far-right party Alternative for Germany (AfD) Frauke Petry said German border police should shoot at refugees entering the country illegally.
"Armed force is there as a last resort," Petry told the regional newspaper Mannheimer Morgen. But "police must stop refugees entering German soil", she said.
Support for the anti-immigrant Alternative for the AfD party has jumped amid growing resentment against refugees.
Petry's remarks have been condemned by politicians and a police union chief, who said firing at refugees would be a suspension of the rule of law.
Chief of Staff of the German Chancellor Peter Altmaier said, "This proposal is inhuman and absurd. With this suggestion, the AfD has shown its true colors."
Europe has been facing an unprecedented inflow of refugees fleeing war and violence in Africa and the Middle East, particularly Syria.
More than one million refugees entered Europe in 2015, according to the United Nations refugee agency, the UNHCR.
The refugee crisis has been Europe's worst since World War II.