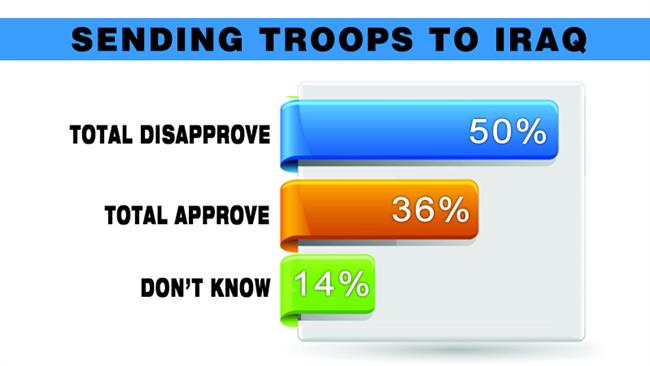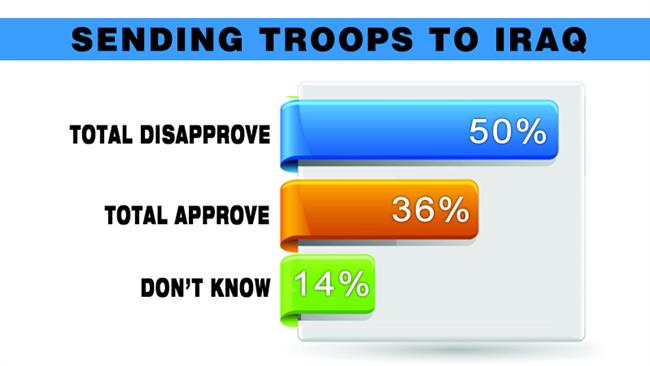 A poll shows that most of the people in Australia are against sending more Australian troops to help train Iraqi forces fighting Takfiri ISIL militants.
The Essential poll, the results of which was published on Tuesday, found that fifty percent of the respondents disapprove of the government's recent decision to deploy more Australian troops to train Iraqi forces in their battle against the Takfiri terrorists.
Only 36 percent of the respondents approved of the decision. Fourteen percent were undecided.
On March 3, Australian Prime Minister Tony Abbott said the country will dispatch an additional 300 troops to Iraq to help train local security forces in their fight against Takfiri ISIL terrorists.
The Australian forces are scheduled to arrive in Iraq in May as part of a two-year mission, which will be reviewed after a year, Abbott added.
The deployment is supported by the opposition Labor party.
When asked whether sending troops to Iraq will make Australia safer or less safe against terrorism, only 12 percent said they believed the deployment would make Australia safer.
About 30 percent of the respondents were of the opinion that dispatching more troops to Iraq would make Australia less safe against terrorism. Ten percent said they did not know.
The Essential poll showed that a majority of coalition voters (54 percent) approve of the deployment, but 60 percent of Labor voters are against it.
Nearly half of those who were polled thought the current deployment would make no difference to the domestic security outlook.
Australia already has about 170 soldiers in Iraq advising Iraqi troops. Another 400 air force personnel, stationed in al-Minhad Air Base in the United Arab Emirates, are backing Australian airstrikes against the ISIL terror group in Iraq.
Last month, Australia charged two men with plotting a terror attack in Sydney in cooperation with the ISIL terrorists.
The charges came after the suspects, Omar al-Kutobi, 24, and Mohammad Kiad, 25, were detained on February 10 during a police raid on a house in west Sydney after a tip-off.
In December last year, a gunman believed to represent the ISIL took 18 people hostage in a 16-hour siege at a Sydney café. Two hostages and the gunman died when police stormed the café to free the hostages.
Takfiri ISIL terrorists control some parts of Syria and Iraq.
After ISIL swept through parts of Iraq in June 2014 and turned against the West's interests and executed a number of Western hostages, the US and its allies interfered and started targeting what are said to be the terrorist group's strongholds.
The terrorist group is engaged in crimes against humanity in the areas under their control. ISIL has terrorized and killed people of all communities, including Shias, Sunnis, Kurds, and Christians.