Mother of kidnapped Muslim baby recounts sufferings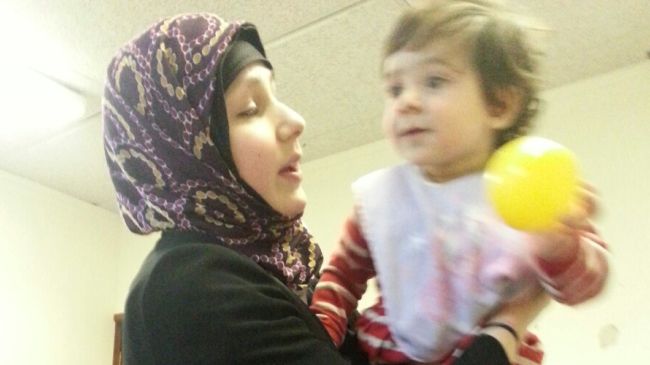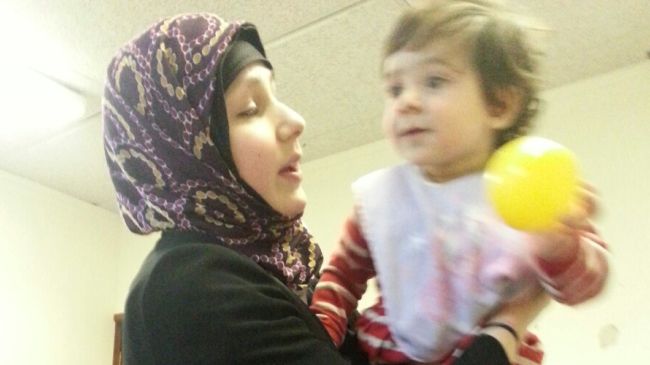 The Muslim mother of an Iranian baby abducted in Northern Ireland because of her mother's Islamic headscarf has addressed a letter to Press TV Newsroom Director Hamid Reza Emadi, recounting her sufferings.
Leanne McFaul's letter on Tuesday came one day after her Iranian husband Khosrow Qanbarian Alavijeh told Press TV that the 4.5-month-old baby was being breast-fed when she was taken away nearly a year ago.
The full text of the letter follows:
Dear Mr. Emadi,
This is Leanne McFaul, I hope you received my email dated 15th of February. I hope to make a video recording of myself telling the entire story of this case and forward it to yourself and hopefully you can put it on Press TV.
I want to make it clear to you just what sort of extremely difficult situation people like myself are inevitably put into by the State when our children are taken from us by Social Services. Since the very moment Social Services/Workers forced their way into my life in November 2012 they have threatened me with Criminal Court Action if I dare in any way expose their intervention in my life and the actions they were taking against myself and my baby daughter Hannah, this threat remains to this very day and it will always remain as these people (social services) rule and dictate on a very strict policy of Confidentiality. Myself and the other unfortunate parents in my position are barley allowed to even discuss our cases with our own family members. If we were to talk to a member of the public, a friend or any member of the Press about our cases and how Social Workers have unjustly taken our children from us and the Social Workers found out about it they would not hesitate for a second in making an application to the High Court to have the matter heard within days at Court and have myself and parents alike accused of breaching the strict rules and codes of Confidentiality and subsequently we would have criminal proceedings issued against us or even worse we would have our Contact with our children taken away, out of this the Social Workers will usually write up a Confidentiality Agreement Contract whereby they will state to the parents that if they do not agree with and sign this agreement (which by the way will strip them of every human right and freedom of speech right they own from them) then they will not be allowed to see their children at all until they sign this agreement. If the parents do indeed sign this sort of agreement then they are forever legally forbidden from exposing and revealing any information about their cases and more importantly about the Social Workers they are involved with. Even an innocent chat with your next door neighbor about your case can land you in Court with criminal proceedings issued against you for daring to expose these heartless and bitterly cruel people that call themselves "Social Workers" and the utterly evil crimes they have committed against you and your family.
A scenario like this has happened to myself and Khosrow on more than one occasion since Social Services forced their way into our life. As you are aware Khosrow videoed Hannah's abduction on the 25th March 2013, he then put the video on YouTube under the title "Satanic Social Workers + Government Agents Abducted my 4 Months Old Baby" shortly after Hannah was taken from us, however the Social Workers whom had taken Hannah from us, Bill McDonald and Charlotte Laverty became aware of the video being on YouTube because a member of my family (out of spite towards me because she never liked me) stupidly went and informed Social Worker Charlotte Laverty about the video being on YouTube. As soon as these above mentioned Social Workers became aware that the video of Hannah's removal was indeed on YouTube immediately they met with us at their work premises, they stated they will be taking Court action in regard to the Video and also that we are no longer allowed to use our mobile phones to take pictures of Hannah or a short video of Hannah during our Contact sessions with Hannah. We were then taken to Court and all Contact with our daughter was suspended until Khosrow removed the video from YouTube. This incident occurred with the video being on YouTube back in April 2013 and still to this very day the Social Workers are still making threats against us in this regard.
Given the way and manner that these Social Workers have conspired against both myself and Khosrow, given how they unjustly and for no apparent reason kidnapped our daughter from us and once they got their hands on her they have abused her in every way possible, given the enormity of lies and allegations they have made-up about myself and Khosrow, given the fact that no matter how long we wait, no matter how many times we go to Court, numerous Consultations with our legal teams, no matter how many assessments we have successfully completed, no matter how much we have done and how long we have waited and endured, the Social Workers and the Family Courts still refuse to return our daughter to our care. My instinct and gut feeling tells me that the Social Services have a sinister agenda against my daughter Hannah, my instinct has always told me this, since the day they forced their way into my home and into my life, I knew and I know these people have an agenda against my child. Why else would they continually lie about me and conspire against me? Through-out this hellish ordeal, my voice, the truth, logic, sense, facts and evidence has been completely trampled upon and thrown in the garbage bin by these Social Workers, at every meeting, Court appearance, assessment and review, my voice counts for nothing with these people, I feel like I am a stranger that has been dragged off the street and sat down around their table whenever I attend one of their meetings or reviews. Everything I say or every point I make, it is never taken seriously and is just swept aside.
From what I have researched into I have seen that there is widespread intense corruption within the Social Services through-out the United Kingdom and particularly the United States of America, there appears to be a widespread and international trend of children being taken from their parents without just reason and the parents being lied about and conspired against by the Social Workers they are involved with, this deepens my fear that there is a sinister agenda against my daughter Hannah. I want yourself and Press TV to keep this story in your archives and report on it as much as you can as I am worried that if I speak out about this case, something might happen to me in the future. I am also very worried about my health as the implications of the stress and torture I have endured because of my daughter being taken from me and the atrocious way the Social Services have treated me for going on 15 months now has taken its toll on my health, I am currently on heart medication as the stress of this case was greatly affecting my heart beat and I was suffering from rapid heartbeat and palpitations on a daily and nightly bases.
The names and positions of all the Social Workers in my case are the following: Social Work Chairperson Rosemary Breslin, Senor Social Worker Bill McDonald, Social Worker Charlotte Laverty, Social Worker Janis Kergin and the name of the Judge whom made the order on the 25th March 2013 to have my daughter removed from our care is a Mr. Trevor Browne.
I will be forwarding you with more information soon Inshallah.
Thanking You
Leanne McFaul