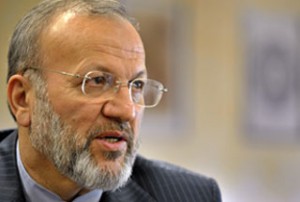 Iranian Foreign Minister Manouchehr Mottaki dismisses media reports suggesting that he held talks with members of the US congress during a rare visit of Washington.
A flurry of media reports suggested that Mottaki had held informal discussions with congressional representatives when he went to visit the Iranian interests section at the Pakistani Embassy in Washington.
Mottaki rejected the reports on Friday. "These discussions will take place in the future if need be. But there were no such meetings on this particular trip," said the Iranian Foreign Minister, who is in New York for the UN General Assembly.
This is Mottaki's second time in Washington. He first visited the US capital 18 years ago when he was deputy foreign minister for legal, consular and parliamentary affairs.
When asked whether the US permission for him to visit Washington should be considered as a positive gesture by the Obama administration, Mottaki said "we try not to read too much into this, but at the same time we don't want to be ignorant."
Mottaki said his trip was merely to visit Iran's interest section in the Pakistani embassy, which he described as the country's largest-ever office branch abroad in terms of workforce.
He, however, noted that Iran and the United States have the potential to cooperate in cultural and academic arenas.
More than a year after the 1979 Islamic Revolution, Washington broke off relations with Tehran, and the two sides have yet to resume ties after some three decades.
Since then, Iranian diplomats are permitted to travel up to 25 miles from their mission at the United Nations in midtown Manhattan. Movement to farther destinations requires an exemption.