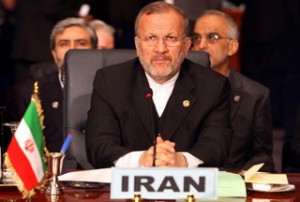 Iranian Foreign Minister Manouchehr Mottaki has arrived in the Ecuadorean capital for President Rafael Correa's swearing in for a second term.
Correa was re-elected in April for a four-year term under a new constitution that expanded presidential powers.
After taking office in 2005, Iranian President Mahmoud Ahmadinejad expanded Iran's cooperation with many Latin American states, including Venezuela and Ecuador.
Mottaki told IRIB that his country is seeking closer ties with Ecuador. "Our untapped potentials and close views on international and regional issues prepared the ground for our countries to deepen their ties through joint investments," he added.
The Ecuadorian and Iranian presidents in 2008 agreed to expand relations by establishing embassies in Tehran and Quito. This comes as the White House has expressed discomfort with Iran's growing influence in Latin America.
In February, US Defense Secretary Robert Gates said Iran's close alliance with certain Latin American countries has caused more concern for him than Russia's recent naval maneuvers in the region.
But Ecuadorian Defense Minister Javier Ponce Cevallos said in May that his country is going beyond the Cold War rules and seeking defense ties with Iran.
In a snub to US complaints, Ponce said, "we have our own policies, our own geostrategic positions, and what interests us with Iran for instance is boosting information technology and our national defense strategies".