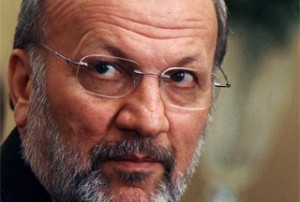 As the US and Western powers are pushing for new punitive measures against Iran, the country's foreign minister dismisses sanctions as "inappropriate".
"Imposing sanctions is an incorrect move because the punishment of a country that has not committed any wrong is tantamount to lowering the stature of the UN Security Council (UNSC)," Manouchehr Mottaki told reporters in Vienna on Sunday.
"Sanctions and punitive measures should be based on logic, law, justice and the commitment to act," he said.
He warned that a failing track record in imposing sanctions against Iran should serve as an important reminder to the West.
The White House is stepping up efforts to rally support in the UNSC for imposing what they have described as "crippling" sanctions against Tehran over its enrichment program.
The UNSC has previously approved three sets of anti-Iran sanctions in order to force the country into suspending its uranium enrichment program — which Tehran insists is entirely geared towards civilian applications of the nuclear technology.
Mottaki emphasized that Iran should be entitled to exercise its rights to nuclear technology in line with regulations of the Nuclear Non-Proliferation Treaty and the International Atomic Energy Agency (IAEA).
The Iranian minister expressed optimism that "members of the Security Council will reach a constructive decision this time around."
He called for working on a nuclear formula agreed by all sides involved based on negotiations and diplomatic measures.
Mottaki also urged members of the Security Council to be considerate in their decisions, noting that "they should be fair and independent."
Earlier on Sunday, Mottaki held talks with IAEA Director General Yukiya Amano on a nuclear fuel swap proposal.