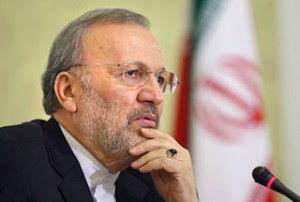 Iran's Foreign Minister Manouchehr Mottaki has strongly condemned a move by the Italian judiciary to detain two Iranian nationals.
"Italy's latest movement to detain the two Iranians, especially the Islamic Republic of Iran Broadcasting (IRIB) journalist is immature and politically-motivated," Mottaki told reporters at Tehran's Mehrabad International Airport after his return from Afghanistan on Wednesday evening.
Hamid Masoumi-Nejad, 51, was an accredited journalist working for IRIB in Rome. The other Iranian national has been identified as Homayoun Bakhtiyari.
"We strongly condemn the Italian judiciary's action which was irrational and a political scenario," Mottaki said.
The Iranian official further pointed out that various divisions of Iran's Foreign Ministry are following the case on a daily basis.
"We hope Italian officials make the right decision as soon as possible and release the two captured Iranian nationals," he explained.
Last Thursday, the Italian Ambassador to Tehran Alberto Bradanini was summoned to explain the detention of the two.
"The Italian ambassador was summoned to the [Iranian] Foreign Ministry to clarify [the issue] and give explanation on [different] aspects of the issue," Foreign Ministry Spokesman Ramin Mehmanparast said on March 4.
On Wednesday, a top Italian prosecutor declared that two Iranians and five Italians were arrested in Italy on allegations of selling arms to Iran in violation of international sanctions.
"It is an investigation of considerable importance because it concerns the entire international community," AFP quoted Armando Spataro as saying.
Both Iranians were reportedly arrested in Turin in northwestern Italy.