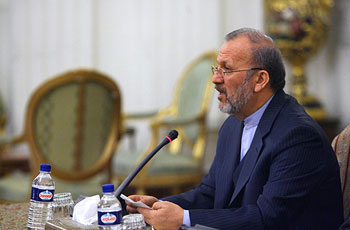 Iran's foreign minister has arrived in India for an official visit that will include talks on economic cooperation as well as regional and global developments.
After getting off his plane at the airport in New Delhi on Monday, Manouchehr Mottaki told reporters that his two-day visit to the Indian capital would focus on economic cooperation talks and political negotiations.
Among the high-ranking officials that Mottaki is scheduled to meet during his stay in New Delhi are his counterpart Somanahalli Mallaiah Krishna and the Indian Prime Minister Manmohan Singh.
In an interview that was conducted on the eve of Mottaki's trip to India, the Iranian ambassador in New Delhi gave a more detailed overview of what the two sides plan to discuss in the upcoming meetings.
Seyyed Mehdi Nabizadeh said that the economic talks would cover topics such as energy cooperation, the planned North-South corridor, development of Iran's railway system and sale of electricity to India.
He said discussing the possibility of greater banking cooperation between Iranian and Indian financial institutions such as the Central Bank of Iran (CBI) and the Reserve Bank of India would also be on the agenda.
Joint projects in scientific, cultural and educational fields would also be part of the talks.
Before leaving Tehran for New Delhi, Mottaki said that the visit which is his second trip to India in a period of four years, is expected to end with a four-year road map for mutual ties.
"The long-held ties between our two countries need to be reengineered with a new design and a fresh road map considering the developments of the past few years," he told reporters.
MJ/SC/DT