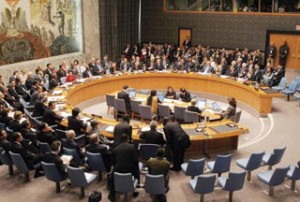 An Iranian lawmaker says the recent UN Security Council statement airing grievances over Tehran's enrichment activities was "sprinkled with political humor."
In a joint statement issued on Wednesday, the five permanent members of the UN Security Council including the United States, Russia, China, France, and Britain raised "serious concern" over Iran's nuclear activities.
"We urge Iran to respond to the concerns of the international community by complying promptly and fully with the relevant United Nations Security Council resolutions and with the requirements of the International Atomic Energy Agency," the statement said on Wednesday.
No more than five days later on Sunday, member of the Iranian Parliament (Majlis) Foreign Policy and National Security Committee, Mahmoud Ahmadi-Bighash, said the statement was "more akin to a political satire piece" than anything else.
Ahmadi-Bighash told the IRNA News Agency on Sunday that there was no evidence to substantiate the accusations laid against Iran.
"As a member of the Nuclear Non-Proliferation Treaty, Iran has always conformed to international regulations and has proved that it never stepped out of line with regards to its uranium enrichment," said the Iranian lawmaker.
"Certain countries have tried hard to make a dent in Iran's peaceful nuclear program, but to no avail," he said, adding that the dealings of these countries with Iran over the past years have largely been a "parody of justice."
The West accuses Iran of aiming to develop nuclear weapons, and based on such allegations, has been pushing for a fourth round of United Nations Security Council sanctions against Iran.
Tehran has rejected the charges time and again.