Mubarak, Abdullah discuss Iran nuclear issue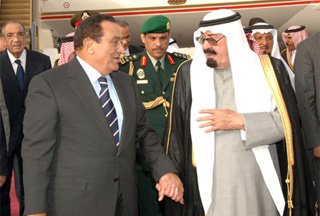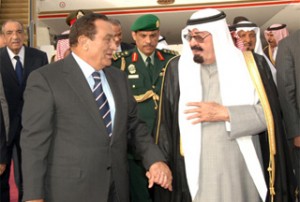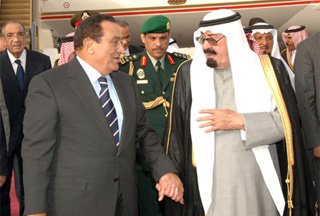 Egyptian President Hosni Mubarak and King Abdullah of Saudi Arabia have discussed Iran's nuclear issue in Riyadh.
The two countries' top officials on Tuesday also talked about the latest issues of the Muslim world as well as Saudi-Egyptian cooperation, Fars news agency reported.
The latest regional and international developments, including Palestine, Persian Gulf security, Iraq, Sudan, Lebanon, Yemen, and Iran were on their agenda.
Mubarak's trip to Riyadh comes after he held talks with the Iranian Parliament speaker Ali Larijani on Sunday in Cairo.
Larijani departed for Cairo on Sunday morning to take part in a committee meeting for the Parliamentary Union of the OIC Member States (PUIC) along with other delegates from Turkey, Kuwait, Niger, Azerbaijan, and Uganda, as well as the host country.
In Cairo, Larijani said Tehran and Cairo should put aside their differences particularly with regards to the Palestinian issue.
"It is most important for Iran and Egypt to set aside their differences and to focus on bridging the gap between political factions in Palestine," he made the remarks in a meeting with Egyptian Foreign Minister Ahmed Aboul Gheit.
The Egyptian president is scheduled to travel to Kuwait after his two-day stay in Riyadh.