Iraq
Middle East
North America
Qasem Suleimani
Muqtada Al-Sadr Joins Meeting of Iraqi Popular Forces' Leaders on Expulsion of US Forces
Influential Iraqi Shiite cleric Muqtada al-Sadr in a meeting with leaders of the country's popular forces conferred on ways to end the US occupation of the country.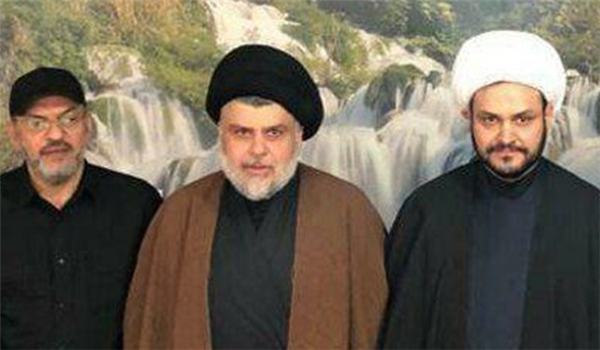 The Arabic-language al-Mayadeen news website reported on Monday that the meeting was hosted by Secretary General of al-Nujaba Movement Sheikh Akram al-Kaabi and attended by Head of the Kata'ib Sayyid al-Shuhada (KSS) Abu Alaa al-Wala'i and a representative of Asa'eb al-Haq resistance group.
The information center of al-Nujaba Movement released images of the meeting which was aimed at coordination to expel the American forces from Iraq.
Al-Kaabi had on Sunday reassured the family of IRGC Qods Force Commander Lieutenant General Qassem Soleimani, who was savagely assassinated by the terrorist army of the US at Baghdad International Airport, that resistance groups of the region will exact revenge on American perpetrators of the criminal act.
In his visit to the house of martyred General Soleimani in Tehran, al-Kaabi said that the resistance movement will take revenge on perpetrators of US terrorist act in assassinating General Soleimani very soon.
"Islamic Resistance Movement of Iraq (Al-Nujaba) promised daughter of Gen. Soleimani to take revenge on martyrdom of General Soleimani" reiterated the Iraqi figure.
Iraq will not be a safe place for American mercenaries and terrorists anymore, he emphasized.
The Iraqi Parliament passed a resolution to work to end the foreign troop presence in the Arab country in the wake of a US targeted assassination of a top Iranian general and a commander of Iraqi popular forces.
The resolution, which was passed anonymously, instructed the government to cancel a request for military assistance to the US-led coalition, which was issued in response to the rise of the Islamic State of Iraq and the Levant (known as ISIL, ISIS or Daesh) terror group.
"The government commits to revoke its request for assistance from the international coalition fighting the Islamic State of Iraq and Levant due to the end of military operations in Iraq and the achievement of victory," the resolution read, adding, "The Iraqi government must work to end the presence of any foreign troops on Iraqi soil and prohibit them from using its land, airspace or water for any reason."
The resolution stated that Iraqi military leadership has to report the number of foreign instructors that are necessary for Iraqi national security.
Earlier, Abdul Mahdi had requested that parliament order the withdrawal of foreign troops from the country.