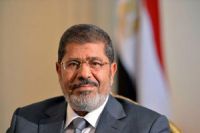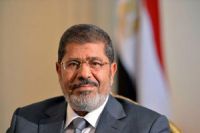 Egyptian president Mohammad Mursi stressed his country's readiness to cooperate with all parties to stop the bloodshed in Syria, calling upon the influencing states to take the initiative he announced during the exceptional Islamic summit in Egypt.
During his speech at the opening ceremony of the Non-Aligned Movement Summit (NAM) in Tehran Thursday, Mursi said his country "supports the right of using the nuclear power for peaceful purposes and freeing the Middle East region of nukes and weapons of mass destruction," noting that all countries of the region have signed the non-proliferation treaty except the Zionist entity.
Mursi, however, criticized the current world order, saying that "its structure needs recovery and its role needs activation."
The Egyptian President believed that the NAM countries are facing great challenges and submitted to local and international risks, calling upon the member states to play a pivotal role at this sensitive stage.
"We should support the Palestinian people's state right of a UN membership," he said, stressing that Egypt will support any Palestinian step taken in the General Assembly or the Security Council and will strive to achieve the just and comprehensive peace.
Moreover, the Egyptian president said that developed countries should be encouraged by making decisions and formulating guidelines, noting that it is not acceptable anymore that the current historical injustice still prevails over Africa even after being presented in the United Nations.
Mursi also made it clear that Egypt is seeking a just world order which will get the developing countries out of marginalization towards the welfare.
At the end of his speech, Mursi handed over the NAM chairmanship to Iran in its 16th session. He then presented a report on Egypt's activities during NAM's 15th session.
He expressed beliefs that Iran will succeed in chairing the movement.