Egypt
Mursi victim of U.S-Saudi Arabia underhanded deals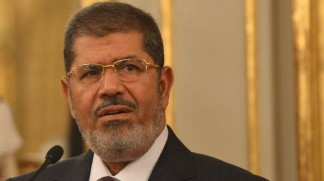 The fairly patent sign was recent attempt in taking over the dominant role in Syria through which Saudi Arabia won over Qatar and shortly thereafter Qatar Sheikh, Sheikh Hamad bin Khalifa Al Thani who was the main supporter of Muslim Brotherhood, handed over the power to his 33-year-old son, Sheikh Tamim. Tamim was Technocrats with no political or religious favor to endorse Muslim Brotherhood.
In addition in Turkey's turmoil, back to the wrangle between the supporters and opposition groups of the ruling Justice and Development Party, a Muslim Brotherhood branch in the region; U.S. and western countries once more defended the opposition groups.
What happened in Egypt and toppling the government in there is another event in this very line. The foresaid events, as we observed, all undergone in Saudi Arabia's favor, inasmuch as the country is deemed as the main rival, from political and religious perspective, for the Muslim Brotherhood in the region.
Saudi Arabia was seriously against pervading Brotherhood movement in the region and just in some few cases such as Syria's morass tactically sided with the party; although Syrian's Brotherhood closed much more to Salafi and Takfiri groups and except for some few issues no thinking borders stood among them.
But main question is that what the U.S gains by this equation with Saudi Arabia and what issues direct the country toward Saudi Arabia?
The answer can be found not in Middle East by in Afghanistan. In another word, Obama, along with the gamut of pledges he made during the election campaign, had leaving U.S forces from Afghanistan on its agenda. But fulfilling the aim required negotiation with Taliban and for this very reason recently a Taliban office opened in Doha.
Although, Pakistan deemed as the supporter of Taliban but the telling role of Saudi Arabia and UAE as the strong supporters of this extremist group should not be fallen on deaf ears and for the same reason U.S cannot progress in two countries without Saudi Arabia's help.
In a nut shell, When the U.S. sided with Turkish opposition against Erdogan government or quietly transferred the power in Qatar, set, indeed, the alarm off but Morsi could not detect such menace on time may be because of his trust to the U.S.
He was uninformed about the underhanded schemes between Saudi Arabia and the U.S which the fact shows the intelligent and security services of Egypt did not apprise him and his government of the latent information .