Palestine
Muslim elders call for prayers at al-Aqsa as israel backs down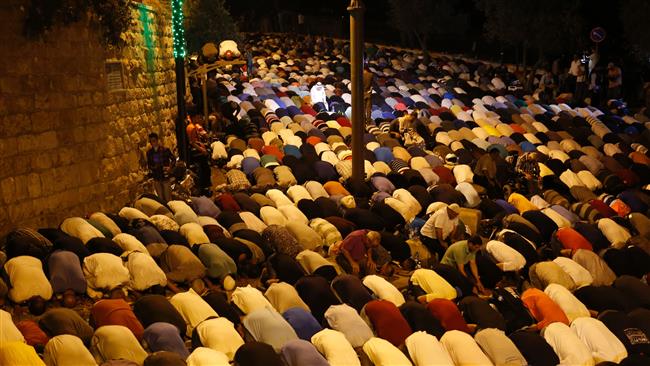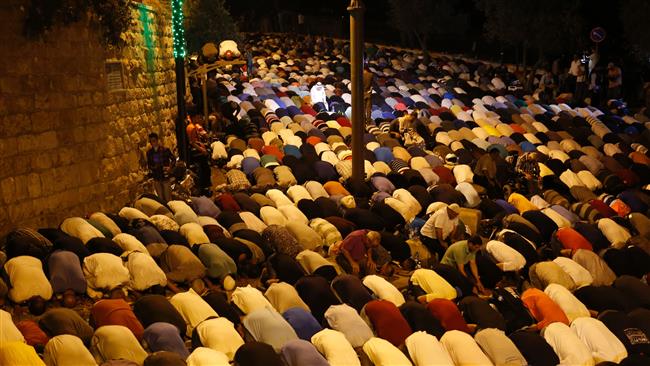 Muslim elders have urged Palestinian worshipers to return to prayers at al-Aqsa Mosque in East Jerusalem al-Quds after Israel backed down in the face of angry protests and removed all the restrictions at the holy site.
"The technical report showed that all obstacles the occupation (Israel) put outside al-Aqsa Mosque were removed," said Abdel-Azeem Salhab, the head of the Waqf, the Jordanian-funded trust that oversees Jerusalem al-Quds' Muslim holy sites, on Thursday.
"We praise this stand in the past two weeks outside al-Aqsa and we want this stand to continue outside al-Aqsa and now inside al-Aqsa," he said.
Palestinian president Mahmoud Abbas and other political factions voiced support for the Waqf announcement.
"The prayers will happen, God willing, inside the al-Aqsa mosque," Abbas told a press conference on Thursday. "For now we will talk only about the afternoon prayers at the al-Aqsa mosque and afterwards have a meeting to decide or study the rest."
Palestinians had been holding daily protests outside the compound since Israeli authorities imposed the restrictions on their entry into the compound following a deadly shooting incident there on July 14.
Many of them refused to enter the compound for the past two weeks and prayed in the streets around the Old City.
Following days of Palestinians demonstrations and international condemnations, Israel finally backed down and began to remove the installed barriers, scaffoldings, high-tech cameras and metal detectors it had installed there, prompting Palestinians to celebrate early on Thursday.
The Muslim leaders lifted the boycott on Palestinian prayers at the site shortly after Israeli police confirmed the removal of all the measures at the site.
The occupied Palestinian territories have witnessed new tensions ever since Israeli forces introduced restrictions on the entry of Palestinian worshipers into the al-Aqsa Mosque compound in East Jerusalem al-Quds in August 2015.
More than 300 Palestinians have lost their lives at the hands of Israeli forces in tensions since the beginning of October 2015.
The Tel Aviv regime has tried to change the demographic makeup of Jerusalem al-Quds over the past decades by constructing settlements, destroying historical sites and expelling the local Palestinian population. Palestinians say the Israeli measures are aimed at paving the way for the Judaization of the city.