Ashura
Days of Allah
Iran
Middle East
Qasem Suleimani
Muslims mark Ashura amid strict coronavirus restrictions
Millions of Muslims, wearing gloves and face masks, have marked the martyrdom anniversary of the third Shia Imam on Ashura, one of the largest Muslim gatherings since the COVID-19 pandemic started.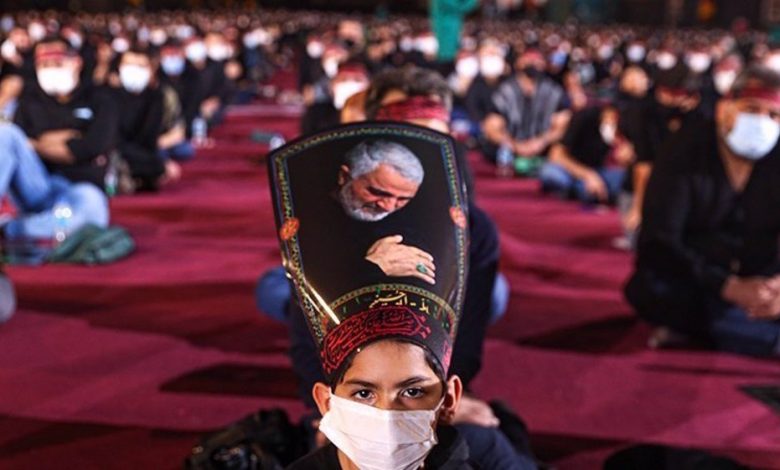 Ashura is the culmination of a 10-day annual mourning period in the lunar calendar month of Muharram for Imam Hussein (AS), a grandson of Prophet Muhammad (Peace be upon Him).
The third Shia Imam and his 72 companions were martyred in the Battle of Karbala in southern Iraq in 680 AD after fighting courageously for justice against the much larger army of the Umayyad caliph, Yazid I.
On the eve of Ashura, known as Tasu'a, the faithful remember Abbas ibn Ali, Imam Hussein's half-brother, who was martyred shortly before the Imam as he tried to bring water to women and children in Imam's camp, who had no water to drink for days due to a siege by the enemy forces.
The Muharram ceremonies symbolize the eternal and unwavering stance of truth against falsehood and humanity's struggle against injustice, tyranny and oppression, the cause for which Imam Hussein was martyred.
Each year on Ashura, Shia Muslims, dressed in black, march in mass mourning processions and listen to elegies, with benefactors distributing votive food.
This year, however, ceremonies are different as large gatherings have been banned due to the coronavirus pandemic and people have been advised to take part in outdoor events while observing social distancing rules.
Shia Muslim commemorates Ashura in several countries such as Iran, Iraq, Turkey, Syria, Afghanistan, Azerbaijan, Bahrain, Lebanon, Pakistan and Saudi Arabia.
In Iraq, where typically millions of people from around the world flock to Karbala, thousands of tearful pilgrims flooded the golden-domed shrine Sunday but with coronavirus numbers spiking across the globe, this year's commemoration was subdued.
Small clusters of pilgrims gathered in the vast courtyards outside the main mosque, wearing the customary mourning color of black and the new addition of medical masks and gloves.
Teams of shrine employees sprayed disinfectant mist through long, thin hoses or distributed masks to any bare-faced visitor. To be allowed into the shrine, people must first have their temperatures taken.
Inside, signs on the carpet floor indicate the proper distance that should be kept between worshipers as they pray.
In Lebanon, which has seen a severe coronavirus spike this month, Hezbollah and Amal movements scrapped large Ashura processions. They asked the faithful to follow sermons online and through media channels.
'Iran's resistance rooted in Ashura culture'
In a post on his Twitter account on Saturday, Foreign Ministry spokesman Saeed Khatibzadeh stressed that Iran's resistance stems from Ashura.
"Iran's consistency in resisting hegemony has roots in this culture. No power, no matter how cruel, can take this away from a nation ready to sacrifice," he wrote.
#Ashura is not just a day in history; it is a constant momentum b/w right& wrong, dignity& humiliation, and liberty& coercion.
Iran's consistency in resisting hegemony has roots in this culture.
No power, no matter how cruel, can take this away from a nation ready to sacrifice. pic.twitter.com/T5l9WpbBYK— Saeed Khatibzadeh (@SKhatibzadeh) August 29, 2020