Middle East
Muslims of all creeds reject terrorist ideology: Larijani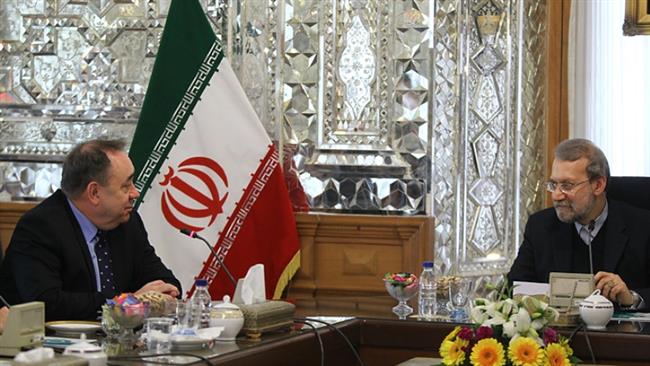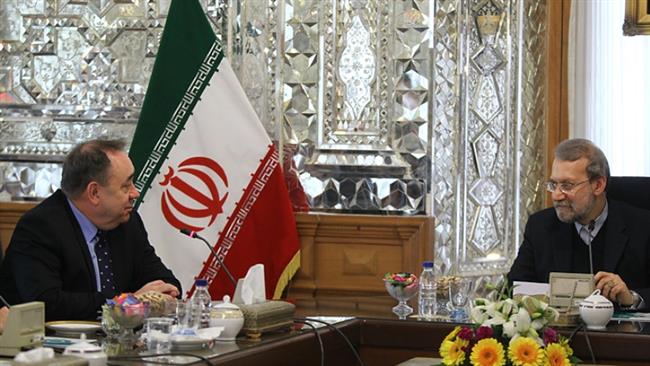 Iran's parliament (Majlis) speaker Ali Larijani says Muslims of all stripes reject terrorist ideologies, noting that Muslims are engaged in fight on terror.
"No branch of Muslims approves of terrorist ideologies and they (Muslims) have always been campaigning against such acts and behaviors," Larijani said in a meeting with a member of the Scottish National Party, Alex Salmond, in Tehran,on Tuesday.
Western media have frequently sought to associate the acts of terrorism committed by the Daesh Takfiri militants with "Islamic extremism;" however, Muslims of all creeds worldwide have repeatedly denounced such acts of violence and distanced themselves from the terrorists.
Larijani added that Iran and Scotland should make use of their capabilities to enhance cooperation in culture, education and energy.
"Iran and Scotland can have close cooperation in cultural, educational and energy issues and such cooperation will be improved through the two countries' realization of each other's capacities," the Majlis speaker added.
Salmond, for his part, said his party has always been opposed to the West's decisions against Iran, saying such wrong policies have caused many problems both for Iran and other countries.
He added that his country is keen to bolster cooperation with Iran and expressed hope that Tehran and Edinburgh will take positive steps in this regard.
He also said a new US legislation to tighten visa-free travel to the United States was a wrong decision and expressed hope it would be amended as soon as possible.
For more than 25 years, the Visa Waiver Program (VWP) allowed people from 38 countries, namely European states, Australia, Japan and South Korea, to travel to the US without applying for a visa.
However, US President Barack Obama on Saturday signed a 1.1-trillion-dollar funding bill that aims to exclude from the VWP all dual nationals from Iran, Iraq, Syria and Sudan, and anyone else who has traveled to those countries in the past five years. Such foreign nationals are now required to obtain a visa through standard measures, including face-to-face interview at a US consulate.