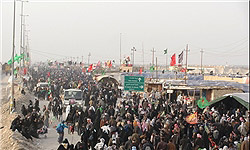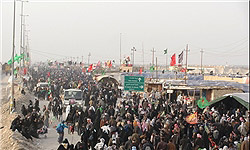 Hundreds of thousands of Muslims in Iraq started a religious rally from the city of Najaf to the city of Karbala to mark the Arbaeen (the 40th day after the death of someone) anniversary of Ahlul Bayt's third Imam.
Muslims from across the world, including Iran, are attending the rally, while hundreds of thousands more join them on the way to Karbala and to the holy shrine of Imam Hossein (PBUH).
The 100-km rally started a few days ago and will last until January 3.
Analysts believe the rally is unique in terms of quality and also the number of its participants. It started from the holy shrine of Imam Ali (PBUH) – the first Ahlul Bayt Imam – and will end up in the holy shrine of Imam Hossein (PBUH).
Large numbers of different student and popular groups are still joining the rally.
Last month, Muslim pilgrims of Iraq and other countries, including Iran, flocked into Karbala, some 100 km South of Baghdad, and into Kadhmiyah in Northern Baghdad to commemorate Ashoura, which marks the martyrdom of Imam Hossein (PBUH), grandson of Prophet Mohammed (PBUH) and the third Shiite Imam.
Karbala provincial officials estimated that some 3 million pilgrims, including 200,000 from foreign countries, are commemorating Ashoura.
Imam Hossein (PBUH) was martyred in the 680 A.D. battle fought on the plains outside Karbala, a city in modern Iraq that's home to the Imam's holy shrine.
In the battle, Imam Hossein (PBUH) was decapitated and his body mutilated by Yazid's armies. All of Imam Hossein's male family members, relatives, friends, soldiers who all together formed a 72-member army were beheaded in an unequal war with a 30,000-strong army of the enemy in the desert of Karbala.
The occasion is the source of an enduring moral lesson for the Muslims.
Imam Hossein's martyrdom – recounted through a rich body of prose, poetry and song – remains an inspirational example of sacrifice to Shia-Sunni all Muslims in the world.