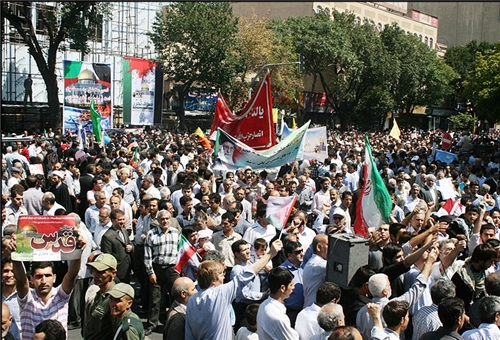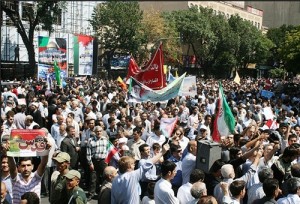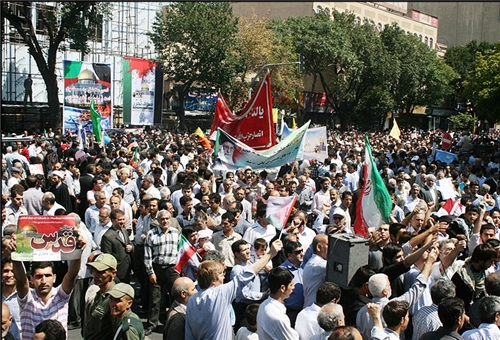 Analysts believe that the International Quds Day Rallies this year will witness a stronger and wider public turnout in all the world countries due to the recent surge in the Zionist regime's brutal attacks on the innocent and defenseless population in Gaza.
Millions of people are expected to take part in the International Quds Day rallies in solidarity with the oppressed Palestinian people today.
The International Quds Day is an annual event opposing Israel's occupation of Beitul-Muqaddas. Anti-Zionist rallies and demonstrations are held on the last Friday of Ramadan in Muslim and Arab countries around the world, specially in Iran.
Similar rallies have also been held in non-Muslim countries across the world in the last two decades.
The International Quds Day was started by the late Founder of the Islamic Republic, Imam Khomeini, in 1979 as a way of expressing solidarity with the Palestinians and underscoring importance of the holy Quds to Muslims.
Analysts say the Quds rallies will be staged with further zeal and enthusiasm across the world this year as the Zionist regime is intensifying its pressures and aggressions against people in the besieged Gaza Strip.
A main message of the day is that Muslims can reach their long-term goals, including the freedom of Palestine and the Holy Quds, by just relying on the brilliant thoughts of Islam.
In relevant remarks earlier this week, Head of the Intifada and Quds Headquarters Brigadier General Ramezan Sharif said The International Quds Day rallies will be held in over 80 parts and nations of the world on Friday to voice support for the defenseless Palestinian people and condemn the Zionist regime's atrocities against them.
"The International Quds Day rallies will be held in 80 different parts of the world this year," Sharif, who is also Head of the Islamic Revolution Guards Corps (IRGC) Public Relations, told reporters in Tehran on Tuesday.
He also said that in Iran, some 770 cities will witness popular rallies in support of the Gazans before the Friday prayers ceremonies.
Sharif stated that 3,300 Iranian and foreign reporters, including 210 foreign photojournalists and reporters, will cover the International Quds Day rallies in Iran on Friday.
Israel has been pounding the blockaded Gaza for 18 consecutive days now, killing at least 800 people and injuring more than 5,050 others.
According to the UN, 77% of the victims in Gaza are civilians and defenseless people.
Since July 8, Israeli warplanes have been carrying out incessant airstrikes against Gaza.
On July 17, thousands of Israeli soldiers also launched a ground invasion into the densely-populated Strip.