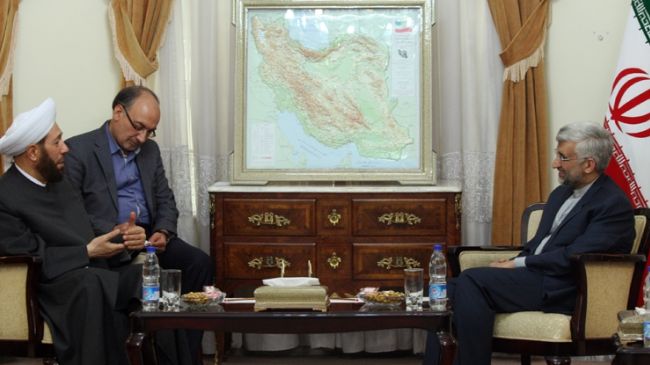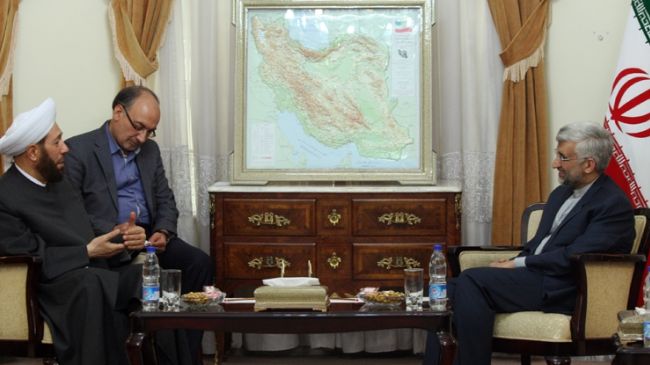 An Iranian official says Damascus is at the forefront of the anti-Israel resistance campaign and the Muslim world will not allow Israel to march on Syrian soil.
During a meeting with Syrian Grand Mufti Sheikh Ahmad Badreddin Hassoun in Tehran on Thursday, Secretary of Iran's Supreme National Security Council Saeed Jalili said the Israeli regime would regret attacking Syria.
He said military action against Syria would be a bitter disappointment for Israel like its failures in the wars it waged against Lebanon in 2006, the Hamas-ruled Gaza Strip once in 2008-2009, and November 2012.
Jalili also pointed to the important role Muslim clergy can play in raising awareness in Muslim nations about enemy plots, stressing that the enemy seeks to prevent the formation and development of a new Muslim civilization through pressure on the anti-Israel resistance front.
The senior Iranian official described Iran's support for Syria and its resistance bloc as wholehearted and unwavering.
Hassoun said Israel's recent airstrike on a military research center near Damascus clearly exposed anti-Syria bids and the direct involvement of the Israeli regime in the Syrian unrest.
He also underlined the need for increased vigilance among Muslims to foil plots devised by the enemy to create a rift among Muslims.