Myanmar
Myanmar using landmines to harm fleeing Rohingya: Amnesty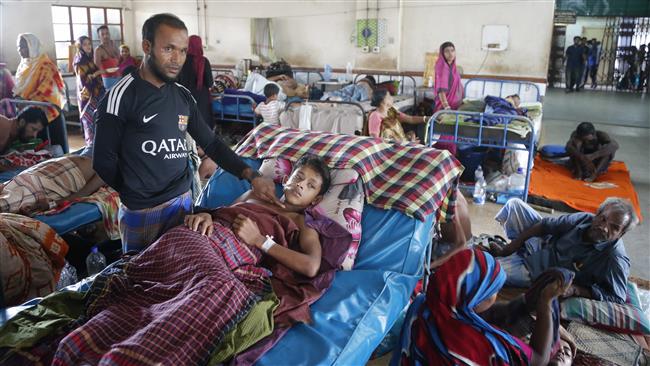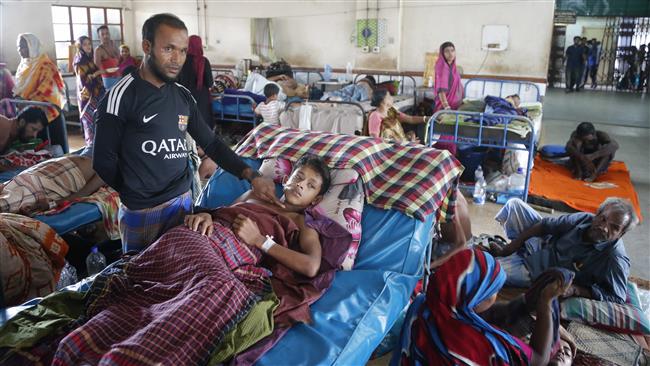 Amnesty International and Bangladeshi officials have slammed Myanmar's military for using landmines against the Rohingya Muslims fleeing violence at home, causing many of the refugees to sustain serious injures or lose their body organs.
The United Nations says 300,000 Rohingya Muslims have fled to neighboring Bangladesh since the Myanmar military unleashed another deadly campaign against the Rohingya-majority Rakhine State two weeks ago.
Bangladeshi officials and Amnesty International experts believe new landmines have been recently planted, including one that the rights group said blew off a Bangladeshi farmer's leg and another that wounded a Rohingya man. Both incidents occurred Sunday.
AP reporters in Bangladesh on Monday saw an elderly woman injured by a landmine. She had devastating leg wounds: one leg with the calf apparently blown off and the other also badly injured. Relatives said she had stepped on a landmine.
Amnesty said, based on interviews with eyewitnesses and analyses by weapons experts, there was "targeted use of landmines" along a narrow stretch of the northwestern border of Rakhine State that is a crossing point from Myanmar to Bangladesh for fleeing Rohingya Muslims.
"All indications point to the Myanmar security forces deliberately targeting locations that Rohingya refugees use as crossing points," Amnesty official Tirana Hassan said in a statement Sunday.
She called it "a cruel and callous way of adding to the misery of people fleeing a systematic campaign of persecution."
Myanmar has one of the few military forces, who have openly used anti-personnel landmines in recent years, according to Amnesty. An international treaty in 1997 outlaws the use of this weapon.
Meanwhile, doctors treating Rohingya refugees in Bangladesh have been astonished and overwhelmed by the scope of injuries they sustained in the brutal violence.
"We have never seen such violent injuries before," said Dr. Shaheen Abdur Rahman Choudhury, the head of Sadar Hospital in Cox's Bazaar.
It is the first time the doctors are dealing with injuries like gunshot wounds, blunt force trauma and stab wounds on a massive scale.
Eighty Rohingya Muslims with gunshot wounds, among other injuries like cuts and infections, are being treated at this overwhelmed medical facility.
Myanmar's forces have been attacking Rohingya Muslims and torching their villages in Rakhine State since October 2016. The attacks have seen a sharp rise since August 25, following a number of armed attacks on police and military posts in the troubled western state.
The latest eruption of violence in Rakhine has killed more than 1,000 people, according to the UN.
An armed group that claims to be fighting to defend the Rohingya declared a unilateral ceasefire on Sunday to let aid reach the displaced.
The Myanmarese government, which blames the armed group for the violence, has rejected the call and said, "We have no policy to negotiate with terrorists."
International criticism of Myanmar's atrocities against Rohingya Muslims has been mounting, with protests around the world decrying the humanitarian crisis unfolding on the Bangladesh-Myanmar border.
Protesters gathered outside the Myanmar E$mbassy in central London on Sunday to demonstrate their support for the displaced Rohingya.
Pakistanis also took to the streets of Karachi on Sunday in a mass protest in solidarity with the Rohingya.
The protesters exhibited numerous placards denouncing the persecution of the minority Muslim group, and called for the revocation of State Councellor of Myanmar Aung San Suu Kyi's Nobel Prize.