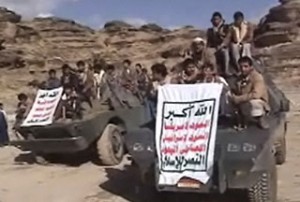 Yemen's Houthi fighters say the Saudi Arabian army has launched a new incursion into the north of the war-wracked country, followed by massive missile fire.
Tuesday's Saudi advance led to a major battle that is still underway in the al-Dukhan region near the Saudi border, said Shia Houthi fighters in northern Yemen.
The move came a few days after the Saudi army failed to take a key military position in the region, which the Houthi fighters managed to retake form the kingdom two months ago.
Unable to crush the resistance from the Houthis since the beginning of their joint offensive with the Yemeni military in August, infuriated officials in Riyadh have vowed not to stop attacks until they cleanse the area of the local fighters.
Meanwhile, Saudi warplanes launched at least a dozen air raids targeting Maran and al-Razih districts, reported the Houthis, saying that nearly 1,000 missiles had been fired into border town areas.
On another front, the Houthis said, Yemeni forces launched further attacks in the northern city of Sa'ada — the Shia fighters' main stronghold — destroying several homes and part of the city's infrastructure.