Syria
NAM summit agreements anger enemies: Ahmadinejad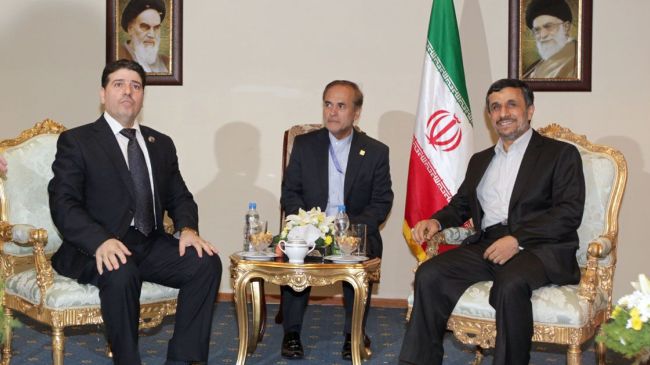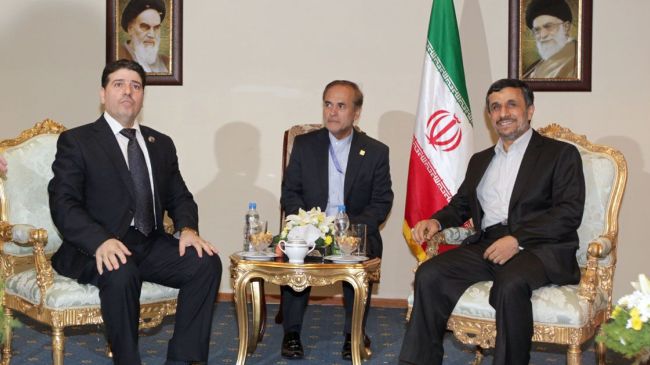 Iran's President Mahmoud Ahmadinejad says the motions passed by the Non-Aligned Movement (NAM) in Tehran have infuriated the ill wishing global powers.
At a Friday meeting with Syrian Prime Minister Wael Nader al-Halqi in the Iranian capital, Tehran, Ahmadinejad hailed the outcomes of the NAM's 16th Summit as an opportunity for the achievement of humane objectives.
"In the course of drafting the final documents of the 16th NAM Summit, very constructive and useful agreements have been reached, and the anger and distress of the ill-wishers against the member nations of the movement is partly due to these agreements," the Iranian chief executive said.
Touching upon the Syrian crisis, Ahmadinejad underscored the importance of observing the rights of the people, saying, "The violence should stop immediately. No one is entitled to encourage violence, because this is not a proper solution for resolving the issues. Problems must be settled through dialogue and mutual understanding."
Halqi, for his part, thanked Tehran for the "excellent" hosting of the NAM summit and said Damascus is certain the outcomes of the conference will bring about positive developments in Syria's future.
The Syrian premier argued that the violence in Syria has targeted the resistance movement against Israel, adding, "The reform process will undoubtedly continue in Syria and the [Syrian] government is not far from containing the unrest."
Earlier in the day, Halqi also held talks with Iran's Vice President for International Affairs Ali Saeedlou.
Saeedlou voiced Iran's support for the Syrian government and nation and expressed Tehran's preparedness to enhance bilateral ties with Damascus in healthcare, energy and economy.
The 16th NAM Summit wrapped up in the Iranian capital on Friday, with the member states passing a final resolution, which included over 700 clauses.