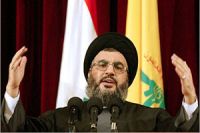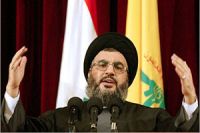 Secretary General of Lebanon's Hezbollah Seyyed Hassan Nasrallah criticized Saudi Arabia policy on Syria and said Riyadh tries to make obstacles in the way of finding a political solution in Syria.
According to IRNA, Nasrallah noted that major developments occurred during the last months in Syria, where the battlefield evolved in favor of the Syrian army, underlying the inability of armed groups to change the game rules, due to the international and Arab change of direction following opposition limitations to unify ranks and the failure of any possible military action on Syria.
Adding that the available way for political option is through dialogue without precondition, Nasrallah stated the whole world believes that there will be no military solution for Syria. The available and acceptable solution is the political one.
He said talks on Geneva II conference open horizons regardless conditions and details. Lebanon and all peoples of the region must push towards the political solution in Syria, indicating that there are regional countries very mad about what is going on in the region, i.e. Saudi Arabia, which is not secret, that attracted tens of thousands of fighters from across the world, and provided them with $ 30 billion so far, along with weapons, incitement, mass media and other tools.
He added the Saudis did their best to topple Syria but they failed.