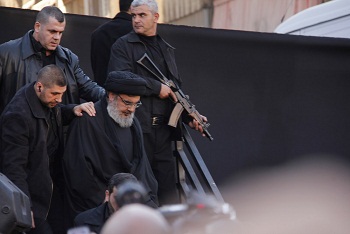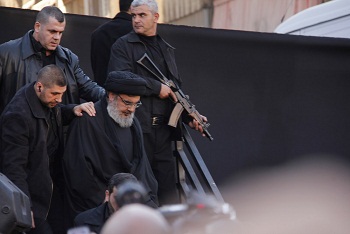 Hezbollah Secretary General Sayyed Hasan Nasrallah stressed that "our decision is to confront" takfiris and terrorists whatever the confrontation is great and the pressure is intense.
Nasrallah statement came during his latest private meeting held with the Resistance officers and military personnel. It is noteworthy that the meeting was held in the Bekaa region (in eastern Lebanon), in light of the escalation of attacks carried out by terrorists on barrens of several Bekaa towns, as well as on towns in the barrens of Qalamoun mountains, while seeking to open a corridor that ensures them to communicate with the area of Zabadani, or any other Qalamoun towns to receive fuel and ammunition at the beginning of Winter which started early this year.
Sayyed's visit to Bekaa, despite risks and security conditions, holds a number of messages, including his emphasis on the determination to continue the confrontation against takfiris on the border, increasing the level of alert, absorbing – at last – the repercussions of the attacks by terrorist takfiris which left a number of the martyrs, and boosting morales among fighters.
Nasrallah stressed in the meeting that "Qalamoun battle is the will of fight" and "we will go into battle and we will be undefeatable after relying upon Allah". He also underlined that "there is no room for surrender to this (takfiri) enemy," highlighting that "sacrifices of our martyrs and pains of our wounded will bloom a great victory», because "pressures generate opportunities and successes. This is what led to the victory of the Islamic Revolution of Iran, and to defeat the Israeli occupation of Lebanon".
Turning on to Shebaa operation for which the Resistance claimed responsibility last week, Hezbollah Secretary General said the operation is "a message to those concerned that the resistance, despite the changes in the region and the advent of the media coalition against ISIL (the so-called 'Islamic State of Iraq and the Levant' terrorist group), is still strong and present and hasn't been weakened."
He also added that the breach done by the Israeli enemy in early September in Adloun southern town when it bombed a spying device detected by the Resistance, "and bombing the device deliberately during the dismantle", which led to the martyrdom of fighter Hassan Ali Haider, "indicates that the Israeli wanted to test the Resistance, thus the response came by the explosive device in Shebaa," which, according to an Israeli military source, injured two soldiers.