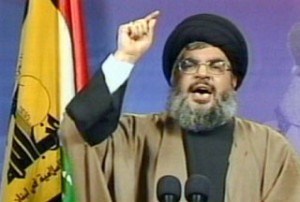 Hezbollah Secretary General Sayyed Hasan Nasrallah said Monday at present Resistance has been institutionalized in the region both among people and at political level.
Nasrallah made the remarks in a ceremony to declare the new charter of the Hezbollah Movement.
"Despite all attacks against Hezbollah and all challenges it was faced with, Resistance could maintain its political position and changed the regional power balance in the interest of Resistance and its supporters," he said.
Referring to different aspects of America and Israel's hegemonic policies in the region as well as many secret and open coalitions and alliances in this regard, Nasrallah said that the strategy was eventually defeated.
Collapse of the US financial markets reveals the defeat of the pattern of hegemonic capitalism, Nasrallah said, adding, "We witness historic events including the retreat of America as a dominant power and the weakening of unipolar system as well as fast and historic collapse of the Zionist regime."
"Resistance movements are at the center of the events. They are the main strategic elements in the international events and play essential role in creating and expediting the events," he added.
"Lebanese Resistance has moved beyond the country's level and found a high Arabic-Islamic position. It enjoys a world and human position," he reiterated.
In another part of his remarks, Nasrallah said American government tried to introduce Resistance as terrorism to remove the Movement's legal and humanitarian legitimacy and justify its war against the Movement.
America's war against terrorism has cost lives of millions of people and destroyed cultural heritages of nations, Nasrallah regretted.
The Bush government has turned America into a threat to the entire world, he said adding, "The US terror is the root of all terrors in the world."
Referring to the traces of American interference in many clashes in different parts of the world, Hezbollah Secretary General urged formation of a global front against the threat.