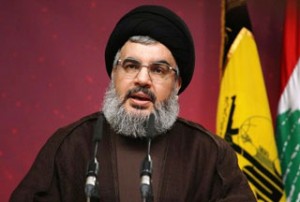 The Hezbollah leader warns that the US embassy in Beirut engages in espionage activities for Israel, cautioning that the collaboration may lead to the "destruction" of Lebanon.
"All the information which the US embassy gathers in Beirut reaches Israel. Here we are not speaking about a normal foreign embassy which is gathering information for its own government … When it comes to the American embassy in Beirut, it is a different story," said the Secretary General of the Lebanese Hezbollah resistance movement Sayyed Hassan Nasrallah on Monday.
"And so what is given to the US embassy and what reaches the Israelis, the information, all of these leads to the destruction of Lebanon. This helps the Israeli enemy to understand what is going on in Lebanon, to use this information against Lebanon and to take revenge against our country," he added.
"What is the difference between espionage networks, which give information directly, or giving information by mediation, meaning giving it to the US embassy who then gives it to the Israeli side?" Nasrallah queried.
Hezbollah has fought off bloody Israeli incursions into Lebanon in 2000 and 2006. The second round of the offensives, known as the 33-Day War, killed about 1,200 Lebanese, most of them civilians.
The movement is also an active member of the country's coalition government.