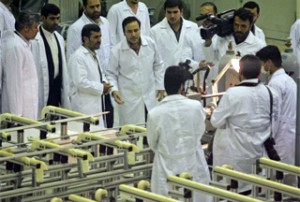 National Nuclear Festival has just started at Tehran's Milad Tower on Friday.
Key state and military personalities, including President Mahmoud Ahmadinejad are present at the ceremony.
Among the guests are Head of the Atomic Energy Organization of Iran (AEOI) Ali-Akbar Salehi, members of the cabinet, the Guardian Council and the Parliament as well as a number of foreign diplomats and ambassadors.
The festival began with playing of national anthem and recitation of verses from holy Quran.
The president is said to give a good nuclear news in the ceremony.
Iranian nuclear scientists' recent plans are to be unveiled in the ceremony.
More than 150 Iranian and foreign reporters are in the meeting to cover the festival.