Iran
Middle East
North America
Ten Days of Dawn
Nation's maximum resistance defeated US maximum pressure, Iranian president says
Iranian President Ebrahim Raeisi says the United States' maximum pressure policy against the Islamic Republic has failed in the face of Iran's maximum resistance campaign.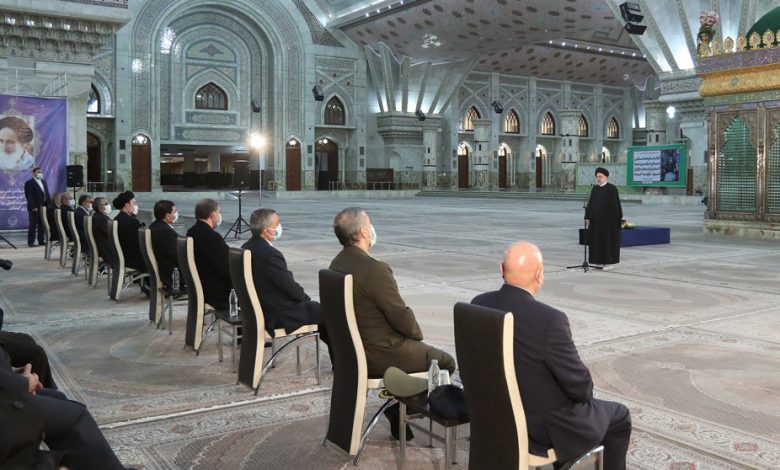 Raeisi made the remarks on Wednesday morning, during a visit to the mausoleum of the late founder of the Islamic Republic, Imam Khomeini, on the occasion of the 43rd anniversary of the Islamic Revolution.
He said even US officials themselves have admitted to the failure of the maximum pressure policy, which was initiated by former US president Donald Trump in 2018 and has been maintained under the new administration of Joe Biden.
"When the Americans officially acknowledge that they have failed in maximum pressure (policy), an ignominious failure, this a victory for the Iranian nation," the Iranian president stated.
"Today, the nation's maximum resistance to seditions and sanctions has borne fruit and the maximum pressure has failed," he added.
Back in 2018, Trump unilaterally withdrew the US from the 2015 Iran nuclear deal and re-imposed the anti-Iran sanctions that were lifted under the accord while piling on with new ones. He said he was adopting a "maximum pressure" policy to force Tehran to negotiate a new deal.
Multilateral talks have been underway for ten months during the administration of Biden, who had vowed to re-enter the deal, officially called the Joint Comprehensive Plan of Action (JCPOA).
In spite of his fierce criticisms of the "failed maximum pressure" campaign pursued by his predecessor, Biden has not only kept all the sanctions imposed under Trump but has also added new ones as well.
For that reason, Tehran has continued to reject direct negotiations with the US in Vienna.
According to Raeisi, whenever Iran resisted against the enemy, including during the era of Iraq's imposed war and other conspiracies hatched against the country, "divine victory accompanied us."
He said every success that has been attained in the country was made possible only where people were enabled.
"Wherever we succeeded, it was because we had handed the field over to the people, and wherever we did not define a significant presence for the people, we did not succeed," the president said.
Further highlighting the ideals of the Islamic Revolution of 1979, Raeisi said relying on God and engaging people were two basic principles invoked by the "great reformer of the century" to lead the Iranian nation toward the Revolution.
"Imam's advice to support [ordinary] people and hut-dwellers was a truth and was drawn from a belief," he noted.
"Attending to people is a principle for all administrations, [including] our administration … We need to take lessons from the Imam's political view," Raeisi added.