Syria
Nationwide map of Syria – February 10, 2018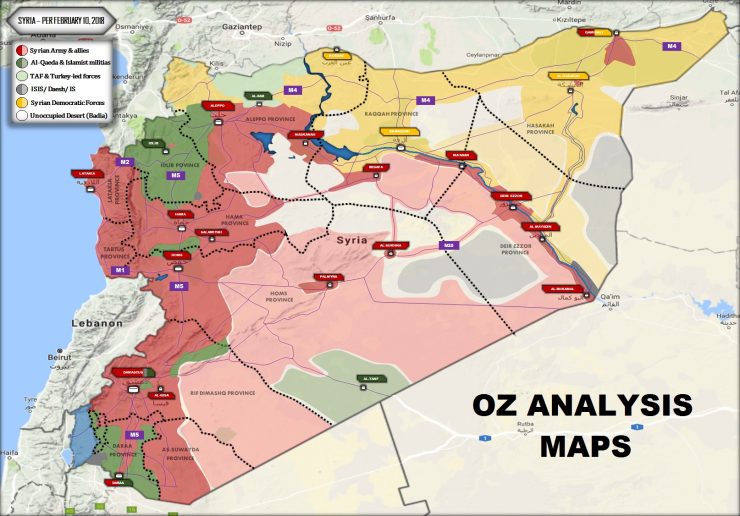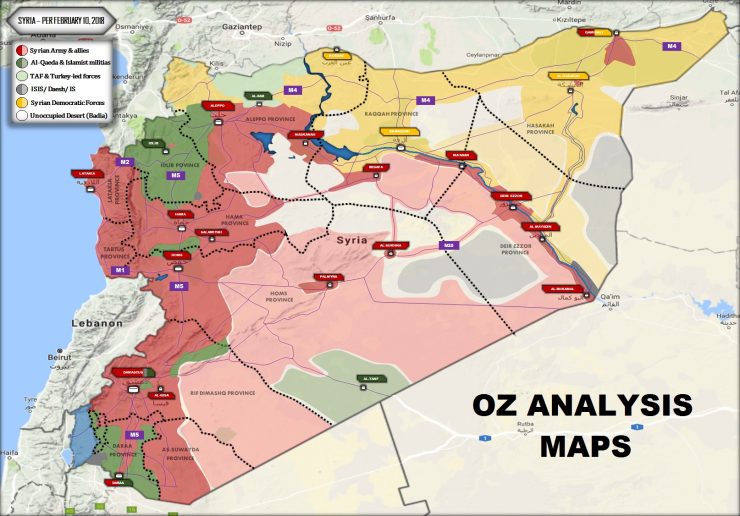 Despite the territorial destruction of the ISIL's empire across Syria and Iraq by the end of 2017, in Syria itself, major battles are far from being a thing of the past with large-scale operations by multiple belligerents taking place since the beginning of 2018.
In the Afrin region of Aleppo province, the Turkish Army and allied rebel militias have made modest gains against Kurdish forces along the borderlands with Turkey since the commencements of their Olive Branch operation, however no true decisive breakthrough has been accomplished. On Saturday, Kurdish fighters downed a Turkish attack helicopter.
Damascus has seen both battles on the ground and in the air. The East Ghouta region has witnessed elite Syrian Army forces (namely Republican Guard and 4th Mechanized Division) inch forward against jihadist militants throughout the district towns Harasta and Arbeen.
On Saturday, Israel launched a general air attack against Iranian (per Israeli accounts) and Syrian military bases in the west Damascus region after the Syrian Air Defence Force downed an F-16I (killing one of its pilots post-event) and a air force drone – that attack itself being carried out in response to the downing of an Iranian drone by Israeli airpower.
The battle saw Syrian air defense forces and Israeli warplanes exchange missile fire for several hours – some Israeli missiles were intercepted and the others that hit their targets ultimately did little lasting damage. Overall, the Israeli onslaught failed to deliver any worthwhile strategic blow to the Syrian war effort or to Syrian military capabilities as was probably hoped for.
In Syria's northwest, the Syrian Army and allied paramilitary groups concluded a six-week dual operation which saw them clear both rebel groups and ISIS all of northeast Hama, most of south Aleppo and big parts of eastern Idlib.
In the province of Deir Ezzor, US-backed forces have manged to secure most of the east shore of Euphrates River, capturing the Islamic State stronghold of Gharanij as well as the Shaitat tribal region over the last fortnight alone.