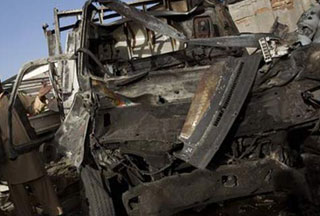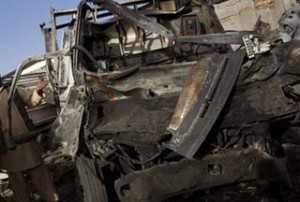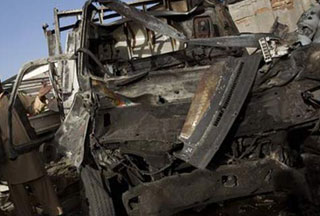 More than one hundred people, mostly civilian, have reportedly been killed and scores others injured after US-led warplanes targeted fuel tankers in an area of northern Afghanistan.
The NATO alliance on Friday confirmed the lethal incident in Kunduz province, hinting that the air raid had targeted two fuel tankers allegedly hijacked by the Taliban linked militants.
Some unconfirmed reports suggested that more than one hundred people had been killed in the explosions caused by the unprecedented strikes.
The governor of Kunduz province, Mohammad Omar, feared the death toll could be as high as 90.
Police chief of the Ali Abad district in northern Kunduz province said dozens of people were killed in the deadly bombardment which rocked the region with huge explosions.
"The fuel tanker got stuck in the river. There were local civilians with them as well. The Taliban were bombed," the police chief said.
Witnesses said that hundreds of wounded people with horrific burns have crowded a hospital in Kunduz city, the provincial capital in the Northern Province
More than 140 Afghan civilians were killed in a series of US airstrikes in the western Farah province in early May.
Civilians have been the main victims of violence in Afghanistan, particularly in the troubled southern and eastern provinces.
More than 1,000 civilians have lost their lives either in US-led air strikes or in the Taliban-led insurgency across the violence-wracked country in the first half of the current year, according to a UN report.
The UN also noticed that the number of civilians killed in conflict in Afghanistan has jumped 24 percent so far this year.
There are more than 101,000 US-led soldiers in Afghanistan. The UN has warned that an increase in the number of American troops in Afghanistan could mean a greater loss of life in the war-torn country.
The US-led airstrikes have killed hundreds of civilians in Afghanistan over some past months.
The spiraling civilian casualties have sparked public outrage and constituted a moot point between Kabul and Washington.