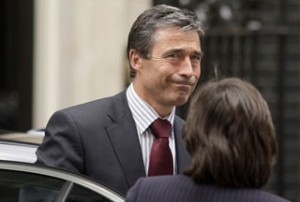 NATO chief Anders Fogh Rasmussen says British Premier Gordon Brown's prediction that 5,000 more non-US allied troops would be needed in Afghanistan is 'realistic'.
Speaking to European Union officials in Brussels on Monday, Rasmussen gave his support to the British call for additional troops in Afghanistan, but said it was premature to make a final assessment.
The secretary general said the members of the European military alliance are currently engaged in intense consultations on future troop commitments and that 'very important decisions' would be made in the next few weeks.
On Friday, British Prime Minister Gordon Brown said he was confident that he could persuade the allies to contribute an extra 5,000 troops.
The additional forces will come on the top of a likely US surge as President Barack Obama has been contemplating whether to approve the deployment of another 40,000 troops to Afghanistan.
Britain has pledged to add 500 more to its 9,000-strong contingent in Afghanistan if other nations strengthen their own forces, as well.
The pledge comes amid dwindling support at home for the prolonged Afghan war and calls on the Brown administration to map out a plan to exit the war-torn country.