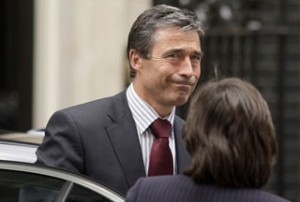 NATO Secretary General Anders Fogh Rasmussen says he is confident that the United States and its Western allies will send additional troops to Afghanistan.
"I'm confident it will be a counter-insurgency approach, with substantially more forces," Rasmussen said at a NATO meeting in Edinburgh, Scotland on Tuesday.
"In a few weeks, I expect we will decide, in NATO, on the approach, and troop levels needed, to take our mission forward."
General Stanley McChrystal, the commander of US and NATO forces in Afghanistan, has been warning that the war could be lost unless 40,000 more troops are sent to the country.
The US ambassador to Kabul, Karl Eikenberry, recently expressed serious reservations about sending more troops to Afghanistan until Karzai's government comes to grips with the corruption problem.
However, US President Barack Obama is not expected to announce a final decision on the matter for several weeks.
Differences have also emerged between NATO countries on the handling of the controversial war in Afghanistan.