NATO says will 'defend allies'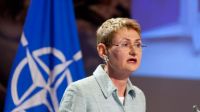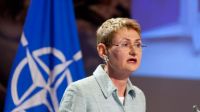 NATO says it will do whatever it takes to defend its allies in the Baltic region, amid growing tensions with Russia over the crisis in Ukraine.
According to AFP, Oana Lungescu, a spokeswoman for the Western military alliance, made the comment on Sunday.
She also accused Moscow of "illegal and illegitimate aggression against Ukraine," adding that the Western alliance has "taken immediate measures to enhance collective security in the air, at sea and on the ground" in the European-Atlantic area.
Meanwhile, the German magazine Der Spiegel reported that NATO seeks to defend the Baltic states from what it called any Russian aggression "with conventional means." The magazine, citing a NATO defense planning committee document, said Russia's ability to undertake military action at short notice poses a threat to the security and stability in the European-Atlantic area.
This is while NATO is holding military drills in the Baltic country of Estonia, where a record 6,000 troops participate from various countries, including the US, UK, Latvia and Lithuania.
Britain, France, and the United States have been deploying troops to the Baltic region since April 29.