Europe
NATO to mull permanent presence in East Europe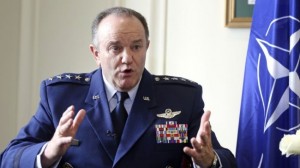 NATO's top military commander in Europe says the Western military alliance is to consider permanent presence in parts of East Europe amid rising tensions over Ukraine.
Asked whether NATO might permanently station forces in the alliance's member states near Ukraine, US Air Force General Philip Breedlove said, "I think this is something we have to consider and we will tee this up for discussion through the leaderships of our nations to see where that leads."
Speaking during a visit to the Canadian capital city of Ottawa on Tuesday, Breedlove noted that the organization has arranged a number of short-term rotations of personnel and equipment in the region, but these actions are due to conclude at the end of 2014.
He further argued that the "new paradigm" in the eastern border of Ukraine requires NATO to look at its "positioning of forces" in Europe.
Meanwhile, Russia has announced plans to deploy additional forces to Crimea in a move to strengthen its Black Sea fleet.
"Before the end of this year, we will form new units of air defense and marine troops at the sites of our fleet's deployment," Russian Defense Minister Sergey Shoigu said on Tuesday.
The announcement came after Moscow voiced concerns about NATO's military build-up in East European countries. The alliance has deployed aircraft and warships as well as ground troops to the region, claiming that the measures are needed to boost confidence in some of its member states, like Poland, Romania, and the Baltic states.
Tensions between the West and Moscow heightened after the Autonomous Republic of Crimea declared independence from Ukraine and formally applied to become part of the Russian Federation following a referendum in March.