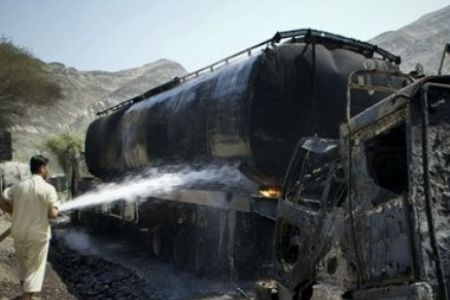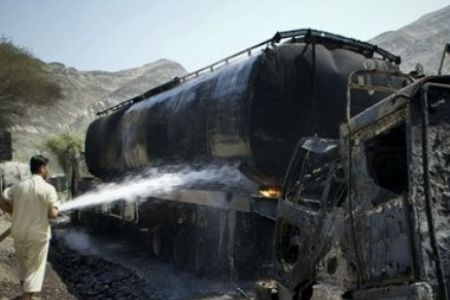 Militants in Pakistan have torched several oil tankers carrying fuel supplies to US-led forces stationed in neighboring Afghanistan.
At least four oil tankers bound for Afghanistan were torched on Sunday in the latest string of attacks on NATO trucks.
Two armed men riding a motorcycle set two trucks ablaze on a highway in Balochistan's Kalat district. A driver was reportedly killed in the fatal attack.
Another tanker was destroyed in Khuzdar and the fourth was blown up in the border town of Torkham in Khyber Agency.
The attacks bring to seven the number of NATO supply vehicles destroyed in Pakistan over the past 24 hours.
There has been a surge in attacks on NATO supply lines in Pakistan.
Hundreds of vehicles carrying supplies for US-led foreign forces stationed in Afghanistan have been destroyed in the last three years.