Iran
Navy to Test Artillery Firepower against Enemy Vessels in Naval Drills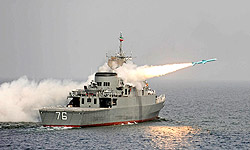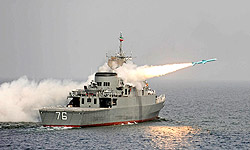 The Iranian Navy plans to test its naval units' artillery firepower for destroying enemy vessels on the third day of the massive naval wargames underway in the country's Southern waters.
The Iranian Navy started a series of wargames in the country's Southern waters on Friday to test its capabilities in defending Iran's water borders and regional interests.
The wargames, codenamed 'The Great Naval Wargames of Velayat 91′, will last 6 days and will cover around one million square kilometers from the Strait of Hormuz to the waters up to the 18-degree latitude.
Speaking to FNA about the third day of the naval drills, Spokesman of the Wargames Rear Admiral Amir Rastegari said Navy's marine and special forces will clash with invading troops of the hypothetical enemy in the country's ports and coasts.
He added that the Iranian naval forces will try to seize control of the invading vessels using combat vessels and choppers.
"Also today, naval artillery units participating in the wargames will fire at a surface vessel of enemy forces and the fire control systems will be locked at aggressive troops and the vessel will be sunk by naval artillery weapons," Rastegari said explaining that the vessel is not hypothetical and will be a real one.
On the second day of the wargames, the Iranian navy fleets exercise their firepower capabilities.
"Today, we exercise different types of shootings," Navy Commander Rear Admiral Habibollah Sayyari said on Saturday.
"These exercises include different surface-to-surface and surface-to-air firings, choppers' landing and taking off and submarine-related drills," Sayyari said.